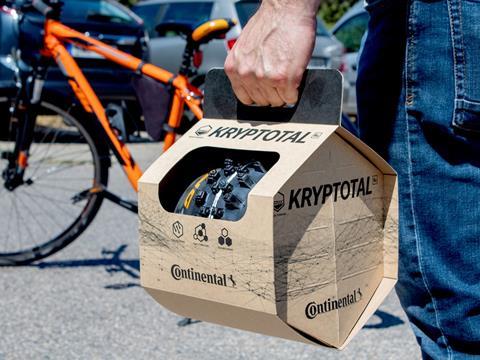 STI Group's recycled corrugated board is set to replace the previous plastic packaging in a new box for Continental's high-tech mountain bike tyres, with the company striving to close the loop on its packaging solutions.
The box – designed to be hexagonal in shape in line with Continental's branding – features cut-out windows, allowing consumers to both see and touch the product inside without having to open the pack. It is folded and glued in place with the aim of utilizing as little material as possible, and although this is said to be complicated to assemble by hand, STI Group states that it is possible to automate the process.
Because of this, the pack is reportedly cost-efficient, easy to assemble and fill, and can be stacked on top of other packs of its kind. Its integrated handle also allows for the pack to be displayed on a Euro hook as well as a shelf and is thought to make it easier for consumers to carry the product home with them.
The box is compatible with any tyre in the Continental range, according to STI Group.
"The move away from plastic to recycled cardboard and the unconventional packaging design has gone down very well with our customers, aligning with our marketing campaign narrative," says Alexander Hänke, product manager at Continental.
The announcement falls in line with Smithers' estimation that the worldwide demand for fibre-based packaging will rise at a compound annual rate of 3.4% until it reaches $503.4 billion in 2027.
FEFCO also reported that the CO2 footprint for the corrugated board industry in the summer of 2022 was 491 kgCO2e/t, marking a "significant improvement" in comparison to the 531 kgCO2e/t recorded in 2018.
Another collaboration saw STI Group develop a series of fibre-based advent calendars for Unilever's Dove and Axe brands, including an option for year-round gift-giving.