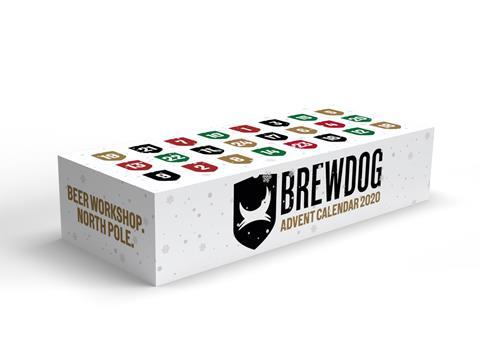 With the festive period fast approaching, DS Smith and Glenhaze have supported the creation of BrewDog's 2020 advent calendars in line with the brewery's commitment to being carbon negative.
With the aim of responding to new online demand patterns resulting from the growth of its e-commerce channels during the COVID-19 pandemic, BrewDog is producing its advent calendars on a much larger scale than before.
The calendar is sold exclusively on the BrewDog website and contains 24 beer cans spanning the company's whole range, including 15 new beers launched this year, six online exclusive beers, and two advent exclusive beers.
With the pre-sale of the advent calendars having already begun and delivery started in late October to guarantee freshness, BrewDog enlisted the support of packaging manufacturer DS Smith and product protection specialist Glenhaze, in the hopes of facilitating e-commerce success in the most sustainable way possible.
Glenhaze, an accredited BrewDog supplier, was pivotal in providing 24 fully assembled cell divisions that would hold the weight of 24 cans horizontally, without collapsing, so that the product can arrive in pristine condition at the consumer door.
Meanwhile, DS Smith worked to design the exterior of the calendar, using its printing capabilities to produce visuals and messages that highlight BrewDog's commitment to being carbon negative.
Martin Ballantyne, key account manager at DS Smith, commented: "Since the start of collaboration, our relationship with BrewDog has gone from strength to strength and we are thrilled that it has partnered with us to spread merriment and develop an advent calendar that is built for e-commerce success.
"By staying true to our sustainability values, our teams have produced a solution that aims to meet ambitious net-zero targets while still continuing to offer the consumer a gift that they would be happy to give to their loved ones."
Lauren Carrol, group CI manager at BrewDog, added: "We're excited to be able to offer this exclusive advent calendar and continue to further our success in the online realm. Through exceptional printing capabilities and DS Smith's ongoing reliability and consistency in producing high-quality products, and Glenhaze's continual support on meeting environmental standards, we have been able to go-to market with a sustainable calendar solution that spreads our message of being carbon negative loud and clear."