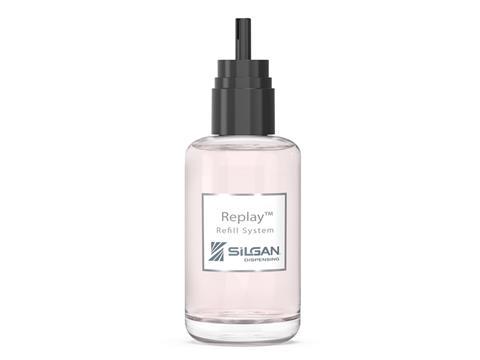 Silgan Dispensing has launched Replay, an all-plastic, recyclable refill system that uses the company's patented LifeCycle Technology that is set to debut at Luxe Pack Monaco.
The pack's key features include the ability for consumers to refill the bottle in 20 seconds, improved adaptability across different bottle types, plastic usage reduction, and a feature that stops the refilling process automatically when finished.
Replay can be provided with or without an over cap, should one be needed for security during transport or greater hygiene. Replay is adaptable to all sizes from samplers, minis, and travel packs to retail packs with SNI 15 and SNI 17 bottle necks.
Silgan says that Replay addresses several notable gaps in the consumer experience as more individuals are seeking practical, sustainable products. According to the company, there is dissatisfaction with the current refill experience. It says existing refill solutions, which have been limited to certain geographies and brands, are commonly criticized for being messy and difficult to manage at home.
Silgan reports that qualitative testing of Replay's consumer experience showed it to be "easy to use, clean and quick, with no concerns of spillages and waste". Comments from focus group participants reportedly characterized Replay as being "intuitive, playful and instinctive" and that "it feels clean because you don't get any perfume on your fingers."
Matching such convenience with sustainability has remained elusive in the luxury fragrance market, despite consumer desire for such products. According to Silgan Dispensing's Fragrance Refill Survey (2023), two-thirds of consumers in France, the United States, and China recycle their fragrance packaging. This is more pronounced in Brazil where three in four consumers recycle fragrance packaging. Furthermore, 80% of consumers commonly repurchase their favourite fragrance, which typically lasts between three and nine months depending on use and bottle size.
The pack uses Silgan's LifeCycle Technology as a plastic spring, removing non-recyclable metals and materials – allowing dispensers to be constructed nearly completely from a single recyclable polyolefin.
If you liked this article, you might also enjoy:
The L'Oréal approach to packaging sustainability
What steps is Apple taking to make its packaging more sustainable?
How did Brazil achieve its 100% aluminium can recycling rate – and can it be replicated in the EU?
Experts have their say on the EU's Packaging and Packaging Waste Directive revisions