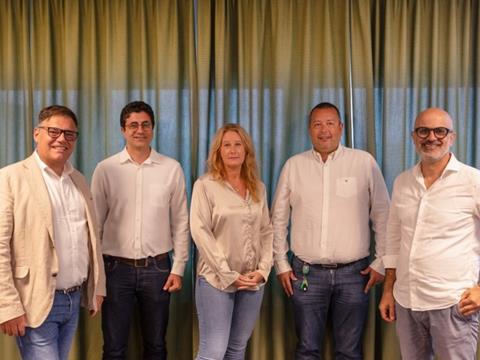 Saveggy has signed a partnership with Swedish-grown cucumber and tomato producer odlarna.se to create production and packaging lines, and an application technology, for its plant-based, edible coating – hoping to replace fossil-based plastic wrapping for cucumbers.
Reportedly, odlarna.se supplies 90% of all Swedish-grown cucumbers and distributes them among all the country's largest retailers. Its vegetables are largely greenhouse-grown, and the company emphasizes both product quality and environmental impact in its operations.
Saveggy's solution expects to triple or quadruple the shelf life of a cucumber, thus extending its shelf life and reducing food waste while cutting out the requirement for plastic packaging. Lidl Sweden, ICA, and other Swedish retailers have contributed to the development and validation of the coating, which expects to 'revolutionize' the European food and packaging industry.
odlarna.se's contribution comes in preparation for a commercial launch of Saveggy's coating, which is anticipated for 2024. It is hoped to phase out plastic cucumber packaging without sacrificing, and even improving upon, its functional benefits.
The project is supported by the European Agricultural Fund for Rural Development (EAFRD) through the Agricultural European Innovation Partnership.
"We are very pleased to have signed this partnership," says Vahid Sohrabpour, co-founder and CEO of Saveggy. "We have been working closely with odlarna.se and large retailers in developing and adapting our product to meet consumer expectations and we're very excited to take this step towards the first commercial launch."
"We believe that this partnership is timely; everyone needs to strive to contribute to reduced plastic consumption," continues Martin Löfstedt, CEO of SydGrönt.
Magnus Nilsson, CEO of Svenska Odlarlaget, adds: "It's an exciting and innovative project, and we see the potential in jointly offering a sustainable product to our consumers."
Over €440,000 was awarded to Saveggy via a Eurostars grant earlier this year. This was hoped to enable collaborations with Arborea Bio Foods and Thorverk to adapt its technology and extend the shelf life of other foods.
In a similar development, researchers at Thammasat University have incorporated cannabidiol – also known as CBD or sodium alginate, a non-hallucinogenic compound sourced from cannabis – into an edible, antimicrobial coating that slows the decay of strawberries.
Meanwhile, scientists at Rutgers University previously used naturally occurring antimicrobial ingredients to create a starch-based, degradable biopolymer coating. This was designed to be sprayed onto food to prevent contamination, spoilage, and transportation damage.
If you liked this article, you might also enjoy:
The L'Oréal approach to packaging sustainability
What steps is Apple taking to make its packaging more sustainable?
How did Brazil achieve its 100% aluminium can recycling rate – and can it be replicated in the EU?
Experts have their say on the EU's Packaging and Packaging Waste Directive revisions