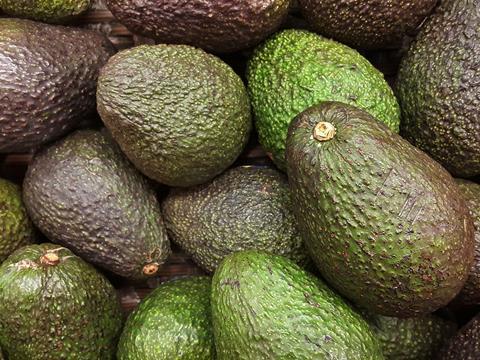 Scientists at Rutgers University, New Jersey, have developed a starch-based, degradable biopolymer coating with naturally occurring antimicrobial ingredients, which can reportedly be sprayed onto food to protect against contamination, spoilage, and transportation damage.
Conducted in collaboration with scientists at Harvard University and funded by the Harvard-Nanyang Technological University/Singapore Sustainable Nanotechnology Initiative, the Rutgers research on the bio-based, antimicrobial packaging technology was published in Nature Food this month.
The researchers explain that the starch-based biopolymer forms a stringy material that can be spun from a heating device that resembles a hairdryer and shrink-wrapped over foods of various shapes and sizes, ranging from avocados to a sirloin steak. The biopolymer is produced by a process called focus rotary jet spinning, as described by the research paper.
According to the researchers, the bio-based coating can be laced with naturally occurring antimicrobial ingredients such as thyme oil, citric acid, and nisin. The coating is reportedly strong enough to protect against bruising while also inhibiting pathogenic microorganisms such as E. coli and listeria.
The researchers add that they can programme these 'smart materials' to act as sensors, activating and destroying bacterial strains on food, which can potentially reduce the transmission of food-borne illnesses and lower the risk of spoilage. For example, the research cites a quantitative assessment apparently showing that the coating extended the shelf life of avocados by 50%.
In addition, the coating can be rinsed off with water and degrades in soil within three days, according to the study. The researchers consider the biopolymer coating to be a scalable, cost-effective solution for both protecting human health and reducing the use of fossil-based plastic food packaging.
Philip Demokritou, director of the Nanoscience and Advanced Materials Research Center, and the Henry Rutgers Chair in Nanoscience and Environmental Bioengineering at the Rutgers School of Public Health and Environmental and Occupational Health Sciences Institute, comments: "We knew we needed to get rid of the petroleum-based food packaging that is out there and replace it with something more sustainable, biodegradable and nontoxic.
"And we asked ourselves at the same time, 'Can we design food packaging with a functionality to extend shelf life and reduce food waste while enhancing food safety?'
"What we have come up with is a scalable technology, which enables us to turn biopolymers, which can be derived as part of a circular economy from food waste, into smart fibres that can wrap food directly. This is part of new generation, 'smart' and 'green' food packaging."
Research on antimicrobial food packaging films appears to be expanding globally. Earlier this year, a team of scientists from Nanyang Technological University, Singapore and Harvard University developed waterproof packaging made from a type of corn protein, zein, along with starch, other naturally derived biopolymers, and antimicrobial compounds. The packaging reportedly kills harmful microorganisms, including bacteria and fungi, while extending the shelf life of fresh fruit by two to three days.