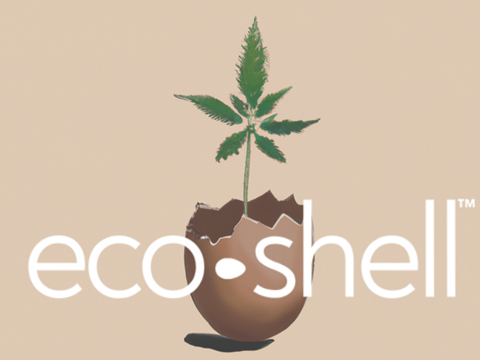 Cannabis packaging expert Terry Faulkner from Spark Sourcing has proposed eco-shell, the company's certified recyclable bio-calcium compound derived from eggshells, as a solution to help the cannabis industry bring down its plastic waste and carbon emissions.
The recent growth of the cannabis industry has been accompanied by a rise in plastic waste. While industry players have been utilizing bioplastics to combat this, Faulkner argues that these materials cannot be recycled and require consumers to sort between them and recyclable plastics.
Not every consumer has access to an environment in which bioplastics can compost, he continues – forcing them to send the materials to landfill, where they will not degrade. As a result, it contributes to plastic waste. The energy-intensive production process for bioplastics, combined with its single-use disposal, also fails to benefit carbon reduction efforts.
While some products use additives on virgin plastics to enhance their biodegradability, Faulkner warns that certification of biodegradability can be obtained for as low as 5-10% degradation in 90 days. These slow-degrading materials have a negative impact on faster degradation processes at composting facilities and will ultimately go to landfill or release more carbon during incineration.
Similarly, adding fibres like hemp to a compound, while reducing plastic, prevents recyclability and degradability. Faulkner also states that consumers will choose sustainability-minded packaging over traditional solutions but are less inclined to pay extra for it, which is not always feasible.
On the other hand, eco-shell reports a 70% reduction in carbon emissions compared to virgin plastics. It is SGS certified as a method of reducing waste, carbon, and plastic; has received EN 13430 certification for recyclability; and also lists EU RoHS, REACH, antibacterial, and high FIR emissivity certifications.
Spark Sourcing claims that eco-shell is easy to integrate into existing manufacturing processes, as it is distributed as pellets. These can be implemented into compounds and help customers pursue their plastic and carbon reduction efforts; this applies to recycled and 'ocean-bound' plastics.
Additionally, eco-shell is not thought to require expensive material testing and is similar in cost to virgin polypropylene. Companies and consumers are expected to benefit from low prices while the cannabis industry can continue to pursue circularity for its packaging.
Faulkner anticipates that pop-tops, tubes, jars, bottles, lids, caps, and closures could all be manufactured from eco-shell – as well as mouthpieces and casings for vapes, with eco-shell plastics' high melting point and antibacterial options serving these purposes.
Spark Sourcing announced the development of eco-shell earlier this year, with its process of deriving a bio-calcium compound from eggshells now patented in the US, UK, Taiwan, Australia, and China.
In turn, this followed the grant of a US patent for the company's GEX bio-calcium, also derived from eggshells. Its manufacturing method is believed to lower plastic content by up to 50%.
A similar development saw Saveggy create a plant-based, edible coating for cucumbers. It received over €440,000 in Eurostars funding in April, and the company recently signed a partnership with Swedish-grown cucumber and tomato producer odlarna.se to develop production and packaging lines and an application technology.
If you liked this article, you might also enjoy:
The L'Oréal approach to packaging sustainability
What steps is Apple taking to make its packaging more sustainable?
How did Brazil achieve its 100% aluminium can recycling rate – and can it be replicated in the EU?
Experts have their say on the EU's Packaging and Packaging Waste Directive revisions
Also, if you're interested in packaging sustainability, you will want to attend our Sustainable Packaging Summit in Amsterdam on 14-15 November. The Summit brings together leaders and pioneers from across the industry to align strategically, learn, network, and create a critical mass to accelerate change. You can learn more by clicking here, and you can buy a ticket to attend here.