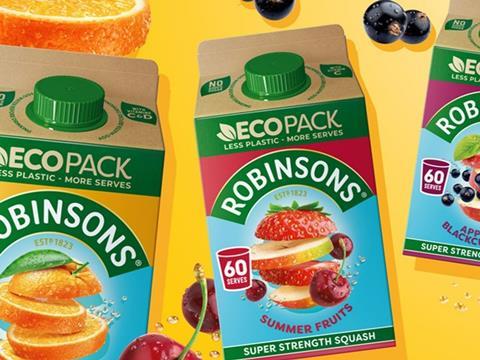 Robinsons is transitioning its highly concentrated squash from a PET bottle into the new Robinsons Ecopack carton made from '89% plant-based materials', aspiring for more servings per pack and an overall reduction in plastic content.
The Robinsons Ecopack is apparently equivalent to three single concentrate bottles of squash. Each carton is said to provide an 85% decline in plastic per serve when compared to a one-litre bottle of Robinsons Double Concentrate, and expects to contribute to an overall reduction in packaging.
Said to serve a higher concentration of squash compared to its single or double concentrate drinks, the cartons are thought to offer 60 serves in every 500ml pack. The new design is undergoing an exclusive launch at select Tesco stores.
"As a brand, Robinsons is continuously innovating and is committed to improving the environmental impact we have," explained Fiona Graham, innovation lead for Robinsons. "Squash is already a sustainable product due to its concentrated format. Making Robinsons available in this new format allows consumers to feel confident in the knowledge that the pack they've chosen has more serves, but used less packaging per serve, and can be recycled once finished.
"All packaging types have their own unique benefits and challenges, and we know there is currently no one 'silver bullet.' That said, we believe that continuing to innovate with products such as Robinsons Ecopack will bring us one step closer to a solution and provide consumers with a range of options."
Martin Shaw, market unit manager at Elopak UK & Ireland, added: "We're happy that Robinsons have chosen our Pure-Pak carton for their super strength squash product. Our renewable and recyclable carton packaging makes a great match with their products."
Parent company Britvic anticipates that the Robinsons Ecopack will contribute towards its overall goal of driving down unnecessary plastic and preventing packaging waste. It states that it has designed 4,000 tonnes of virgin plastic out of its packaging since 2017, and that it is continuing to implement more recycled packaging and sustainably sourced materials into its portfolio.
Even so, replacing plastic bottles with cartons has caused controversy in the packaging industry. We previously heard from Jonathan Wragg, owner of CAP Environmental, about Morrisons' decision to replace its HDPE milk bottles; he asserts that the redesign is 'very short sighted', as only Tetra Pak is currently able to recycle the cartons and the end result is apparently downcycled.
Carton replacements are nevertheless a popular solution. Sainsbury's has chosen to implement home-recyclable cardboard cartons for its 750ml own-brand laundry detergents in a bid to save 22 tonnes of household plastic annually; and Elopak claims to have reduced the amount of plastic used in conventional mouthwash packaging by 80% as Paperdent utilises its D-PAK paper carton.
If you liked this article, you might also enjoy:
McDonald's Director of Sustainability in Europe on the company's approach to packaging sustainability
McKinsey on whether or not on-pack sustainability claims affect consumer spending
Perspectives from industry-leading experts on the EU's Packaging and Packaging Waste Directive revisions
A deep dive into the most important packaging sustainability trends and solutions