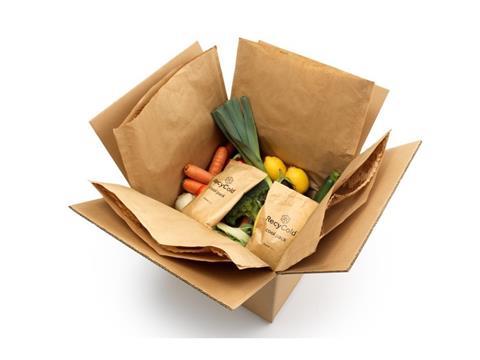 Ranpak is launching its RecyCold climaliner solution, a recyclable, paper-based thermal liner designed for cold chain shipping applications in various sectors.
RecyCold climaliner is set to keep products within their ideal temperature range – frozen, chilled, or near room temperature – for up to 48 hours. It claims to match the thermal performance of existing technologies while also being thinner and more flexible, thus fitting into various configurations and box sizes.
As well as lowering food waste and cost, the liner apparently provides an aesthetically pleasing solution for customers to achieve positive branding attributes. It can be used by itself or, as available in Europe and North America, alongside Ranpak's RecyCold cool packs as a comprehensive cold chain solution.
The solution aspires to meet shipping requirements in various fast-growing segments including online groceries, ready-to-use meals, and mealkits. As an estimated 30% of all food is wasted globally every year, it also hopes to contribute to food preservation efforts without increasing plastic production.
"The global launch of RecyCold climaliner represents our latest innovation in the sustainable shipping space, highlighting the efforts Ranpak has made to deliver cost savings, efficiency gains, and an aesthetically attractive total Cold Chain solution," said Omar Asali, chairman and chief executive officer of Ranpak. "The increase in shipping of temperature-controlled items increases the need for scalable and sustainable technologies.
"We are pleased to include climaliner among our growing portfolio of sustainable solutions to help our customers improve their supply chain performance, lower their labor costs, reduce food waste and meet their sustainability goals."
Last year, Peli BioThermal released Crēdo Go, a reusable, flexible, temperature-controlled shipping solution designed to help pharmaceutical companies reach environmental, social and governance goals, cost reduction targets, and operational performance indicators.
Phononic's Actively-Cooled Tote 2000 cooling and freezing equipment for cold chain applications features a proprietary thermoelectric-based cooling platform to combat toxic refrigerants and hydrofluorocarbons, which contribute to global warming; and Returnity's The Last Box is a reusable solution expected to replace almost four million cardboard boxes for shipping and delivery in retailers' internal operations this year.
If you liked this article, you might also enjoy:
McDonald's Director of Sustainability in Europe on the company's approach to packaging sustainability
McKinsey on whether or not on-pack sustainability claims affect consumer spending
Perspectives from industry-leading experts on the EU's Packaging and Packaging Waste Directive revisions
A deep dive into the most important packaging sustainability trends and solutions