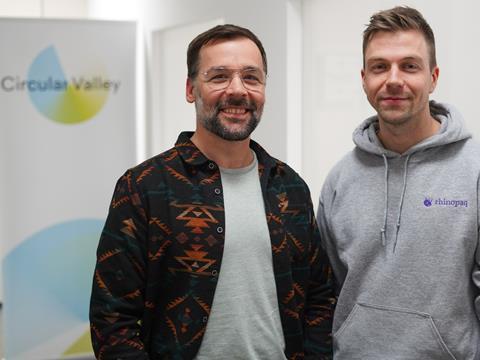 Packaging start-ups Lixo and Rhinopaq are amongst the successful applicants of the latest round of Circular Valley's Circular Economy Accelerator programme – set to provide an AI-based solution for sorting recyclable waste and reusable e-commerce packages, respectively.
French start-up Lixo utilises artificial intelligence to analyse waste in real-time and identify the recyclable materials it contains as it moves down the assembly line. This solution is expected to provide disposal companies, sorters, recyclers, and other contributors across the value chain with a transparent, efficient, and traceable recycling process.
Following previous partnerships with such organisations as Suez and Veolia, Lixo is aiming to expand its technology internationally.
Meanwhile, Rhinopaq provides boxes and envelopes made of recycled polypropylene for use in place of disposable e-commerce packaging. With one in every four trees thought to be felled to produce packaging, according to the company's founders, and online retailers said to have turned over almost €100 billion during the COVID-19 pandemic – a figure that apparently remained high at €90 in 2022 – Rhinopaq's packaging is designed for reuse.
Fourteen start-ups have been chosen from over 500 applications to the Circular Economy Accelerator programme. Each start-up seeks to reduce emissions by billions of tons in their respective sectors, including water treatment, platforms for industrial waste, renewable energies, green building, and transportation, with Circular Valley providing coaches and well-established industry partners as a contribution to their efforts.
Previous recipients of Circular Valley's funding include Yo-Waste, which aims to facilitate efficient waste management in Uganda through an app; and Transfairbag, which has developed a paper alternative to plastic cushioning film in envelopes, aiming to improve the recyclability of postage materials.
Five projects involved in the development, testing, and/or scaling up of bionanomaterials are being encouraged to apply to an open call from European innovation platform Bionanopolys. Successful applicants will gain access to its fourteen upgraded pilot plants and complementary services, as well as receiving funding from the European Union through project partners.
Kelpi has also received over £3 million in seed funding from Innovate UK's Combined Investor Partnership programme for the development of its seaweed-based biomaterial coatings for recyclable and home-compostable packaging.