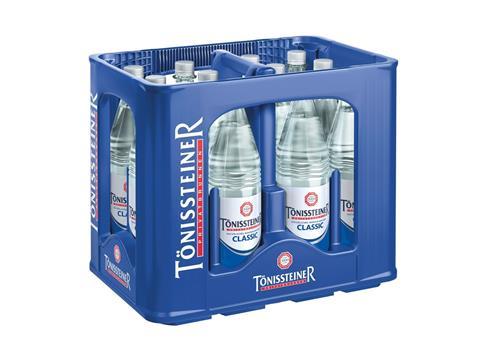 ALPLA and TÖNISSTEINER have revealed a reusable and recyclable PET bottle for mineral water, said to be made entirely from post-consumer recycled material and designed to reduce both weight and carbon consumption.
Excluding the closure and label, the 1-litre bottle is reportedly manufactured from rPET produced and provided by ALPLA's recycling processes. It is designed to fit perfectly into TÖNISSTEINER's existing twelve-bottle crates, with up to 160 crates containing 1,920 more bottles thought to be transportable per lorry load.
Empty rPET bottles and glass containers can be returned to TÖNISSTEINER on a pallet of standardized crates, a system designed to optimize cycle speed and reduce the requirement for wholesalers and retailers to sort the bottles.
On-pack laser markings reveal the number of cycles a bottle has been through and are intended to complement quality control measures during refilling. When it reaches end-of-life as per the number of cycles it can endure, the bottle can apparently be converted back into rPET at an ALPLA recycling plant, at which point the recyclate can be turned into new bottles.
Therefore, TÖNISSTEINER and ALPLA seek to establish an optimum bottle-to-bottle loop with their own supply of high-quality and reusable PET bottles.
"The packaging of the future is sustainable, light and safe," comments Georg Pescher, managing director of ALPLA Germany. "We at ALPLA already deliver in this regard with a circular economy based on the bottle-to-bottle principle, weight optimisation and systematic design for recycling.
"Working with TÖNISSTEINER, we have brought all of these approaches together to create a new reusable solution made entirely of rPET."
"TÖNISSTEINER stands for the sustainable use of resources," says managing director Hermann-Josef Hoppe. "In ALPLA, we have found an innovative partner for the introduction of our first own reusable rPET bottle. The climate-friendly bottle has been perfectly tailored to our sorting, bottling and transport processes."
In a previous collaboration, the ALPLA Group joined forces with Vöslauer to create a returnable PET bottle for its mineral water with an estimated lifespan of three to four years.
This year, NEUE Water's luxury artesian mineral water has been repackaged in a '100% recycled' PET bottle in cooperation with Berry, while Prevented Ocean Plastic's 'ocean-bound' plastic waste has been incorporated into Lidl's sparkling water bottles – a move hoped to keep nearly 4 million plastic water bottles out of the world's oceans every year.
If you liked this article, you might also enjoy:
The L'Oréal approach to packaging sustainability
What steps is Apple taking to make its packaging more sustainable?
How did Brazil achieve its 100% aluminium can recycling rate – and can it be replicated in the EU?
Experts have their say on the EU's Packaging and Packaging Waste Directive revisions