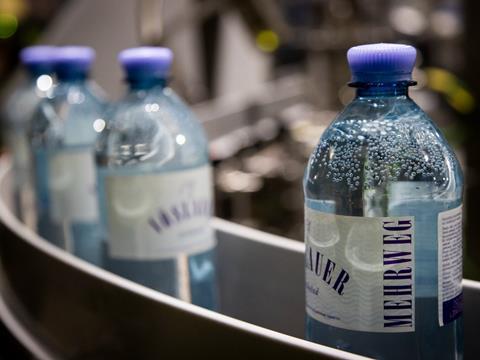 The ALPLA Group has collaborated with Vöslauer, an Austrian mineral water company, on a returnable PET bottle that the companies estimate can remain in use for three to four years.
According to the companies, the one-litre returnable bottle is made from fully recyclable PET mono-material with a recyclate proportion of around 30%. The companies claim that the bottle can go through at least twelve usage cycles, allowing them to remain in circulation for three to four years.
In addition, the bottle weight is around 55 grams, reportedly almost 90% lighter compared to reusable alternatives made of glass. The companies say that the low weight helps to reduce the carbon footprint by approximately 30% by making production, shipment, and storage more efficient.
With the introduction of the returnable PET bottle, Vöslauer will apparently make an annual saving of approximately 400 tonnes of material and 420 tonnes of CO2.
The bottle was unveiled last month, with Austria's Environment Minister Leonore Gewessler and Alexander Egit, managing director of Greenpeace in Central and Eastern Europe, present.
Now available in stores, the companies say that the returnable PET bottle is the first modern iteration of its kind for the Austrian market. The bottle apparently replaces the previous solution, a one-litre, two-way PET bottle available with a deposit.
Birgit Aichinger and Herbert Schlossnikl, managing directors at Vöslauer, comment: "The majority of Austrians want to see returnable containers on the supermarket shelves.
"PET is the environmentally sensible addition to our product range. As the market leader in the deposit segment, we are the first company in Austria to create a light and practical alternative."
Rainer Widmar, managing director, Central and Eastern Europe, at ALPLA, adds: "People want to consume sustainably.
"Although returnable PET is the optimum packaging solution, there wasn't a single product of this kind in the Austrian market until now.
"The returnable PET bottle developed together with Vöslauer illustrates how demand, a sense of responsibility, a hunger for innovation and technological expertise can reduce the carbon footprint."
Earlier this year, ALPLA announced that it would expand its PET bottle recycling capacity in Germany by 75,000 tonnes annually following a set of acquisitions. The company has also worked with Echohelp and United Polymer Trading (UPT) to construct a recycling plant for PET in Romania.