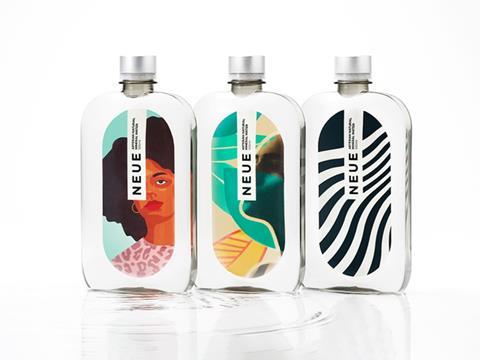 Berry is packaging NEUE Water's luxury artesian mineral water in what is described as a 100% recycled PET bottle, with its flat body said to be made entirely from recycled content.
The NEUE Water bottle is designed with a flat, ergonomic shape to fit into pockets, bags, and seatback storage on public transport. Although this shape initially caused issues for the injection stretch blow moulding process that is traditionally used to manufacture PET bottles, Berry has adapted the technology to become compatible with the design.
An uninterrupted convex window on one side is intended to magnify the label area, with limited-edition artist labels being applied across the fashion seasons in a bid to draw attention to the product on the shelf. Berlin-based artist Studio Raaad has designed six one-of-a-kind prints for the first set of labels.
Additionally, the bottle is designed to be solid enough to enable refills for reuse; and, at its end of life, the pack is said to be recyclable.
"In launching NEUE Water, we are improving the carbon impact of the historical packaging materials for mineral waters," said Michael Lowers, founder of NEUE Water. "Our water allows consumers to hydrate consciously on the go, with a bottle that uses no new plastic and is recyclable. In this way, we are championing the move to a more circular economy.
"Bringing the bottle design concept to life was not easy, but the team at Berry rose to the challenge and have been hugely supportive throughout the project. The end result is brilliant – a fantastic looking bottle that perfectly combines style with sustainability.
"The case for using 100% rPET for our bottles is incontrovertible. We needed a company like Berry with the skills and determination to make it happen. Together, we were able to produce a functional and stylish bottle that matches today's lifestyle perfectly in terms of both its convenience and sustainability."
Joe Horton, product line director at Berry Agile Solutions, added: "At Berry, we are committed to working with our customers to develop solutions that support the move to a more circular economy. It was therefore especially pleasing for our team to be able to work with Michael, sharing our personal commitments to achieve more recycling and supporting his ambitious sustainability goals.
"The success of this project ideally demonstrates why collaboration is so critical. The NEUE water bottle is the perfect example of how we can achieve 'More Together', delivering sustainable packaging that still embraces all the long-established benefits of plastics."
In a similar development, Henkel's Pril dishwashing liquid brand is now packaged in a bottle that contains 50% recycled material from the German 'yellow bag' collection system in its body. The rest is apparently sourced from recycled beverage bottles to bring the total composition up to 100% rPET.
Furthermore, Neste, Suntory, ENEOS, and Mitsubishi Corporation recently announced their collaborative efforts to produce PET resin from 'renewable' Neste RE feedstock, with the results expected to be used in the manufacture of Suntory bottles next year.
If you liked this article, you might also enjoy:
The Lidl approach to packaging sustainability
How did Brazil achieve its 100% aluminium can recycling rate – and can it be replicated in the EU?
Experts have their say on the EU's Packaging and Packaging Waste Directive revisions
A deep dive into the most important packaging sustainability trends and solution