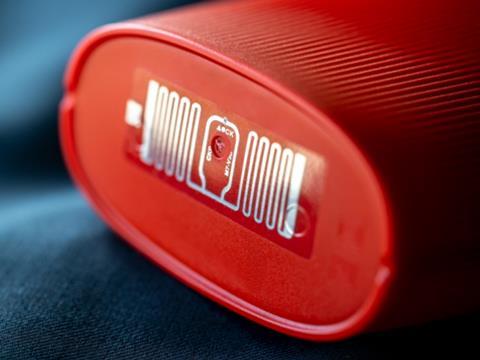 McDonald's France has collaborated with Checkpoint Systems to implement food-safe RFID technology into its new reusable containers – a move hoped to keep track of the packaging, optimise the restaurant's reusable system, and reduce waste.
Appointed in 2021 after a two-year consultation process, Checkpoint Systems claims to have created one of the first-ever food-safe, heat- and water-resistant radio-frequency identification (RFID) solutions; these are set to monitor – and track through an automated database – cups, bottles, containers for fries, and more.
The installation of RFID hardware and software in over 1,200 of its French restaurants aims to offer McDonald's real-time visibility for its reusable tableware stock. In turn, the company expects to achieve fast and efficient inventory management, optimise replenishment, and protect the long-term security and usability of its stock lines.
The database is thought to offer up to 99% accuracy in its records of real-time data surrounding stock inventory. This will include the types and quantities of container available at each restaurant, as well as requirements for replenishment, including an automated track and trace function to locate missing containers and prevent shrink.
It is anticipated that the technology will cut down on packaging waste and line up with new legislation introduced in France in January 2023, which has placed restrictions on disposable tableware.
"With the new French legislation that came at the beginning of this year, the sector's players faced a unique challenge," said Julien Thibult, RFID sales director Checkpoint France. "Europe is tasked with achieving a circular economy within the next decade, and getting there will pose a number of operational obstacles."
"As the onus is placed on brands and retailers to pave the way for a greener future, it is important for organisations to adjust their business practices accordingly without any adverse effects on their bottom line," Frederic Boukara, business unit director France at Checkpoint Systems, continued. "As such, we have provided an RFID solution to meet the demands of McDonald's France, not only enabling it to improve its supply chain operations and visibility, but future-proofing the brand's business with the environment in mind."
McDonald's Corporation announced in March that it would produce a report on the environmental, financial, and reputational benefits and pitfalls of transitioning into reusable packaging. This will include its impact on single-use solutions and the environment.
Packaging Europe also spoke to Katherine Fleet, head of Sustainability & Circularity at RECOUP, about the company's new 'Reusability by Design' guidance. She underlined the benefits of RFID technology to address concerns surrounding reusability systems, including traceability and hygiene.
Last year, Walmart announced its own plans to implement RFID tags on a range of products sold in its stores. Although it has come with many successes, drawbacks such as the difficulty of tagging individual items and increased electronic waste have also arisen.
If you liked this article, you might also enjoy:
The Lidl approach to packaging sustainability
How did Brazil achieve its 100% aluminium can recycling rate – and can it be replicated in the EU?
Experts have their say on the EU's Packaging and Packaging Waste Directive revisions
A deep dive into the most important packaging sustainability trends and solutions