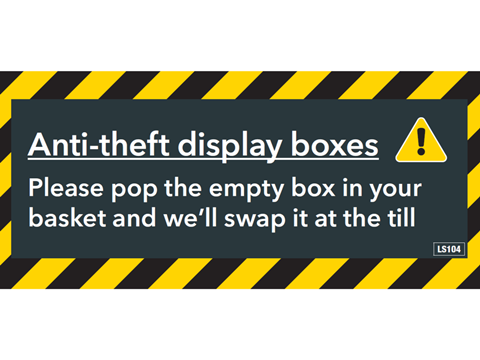 Co-op seeks to tackle bulk shoplifting in its stores by extending its trial of anti-theft 'dummy display packaging' for products that are frequently stolen and resold.
Where local issues arise, empty packaging will be displayed for higher-value products that are targeted for re-sale; this includes coffee, washing powder, and laundry gel. Consumers are encouraged to take the dummy display case to the till, where an employee will provide them with the actual product at the point of purchase.
According to the retailer, almost 1,000 incidents of crime, shoplifting, and anti-social behaviour were recorded across its stores each day in the six months leading up to June 2023; this apparently marks a 35% YOY increase.
Additionally, almost two-thirds of retail crime in general – 63%, specifically – is thought to be committed by prolific or repeat offenders, and sometimes members of local organised criminal gangs.
Co-op warns that such crime rates could lead to some communities becoming a 'no-go area' for local stores, with a freedom of information (FOI) request indicating that police forces do not respond to 71% of serious retail crime.
As well as calling for police forces and crime commissioners to crack down on prolific offenders and criminal gangs, the company expects anti-theft packaging to 'continue to become a more familiar feature in retailing' after its previous trials of anti-theft packaging in a limited number of stores.
Kate Graham, director of Operations at Co-op, said: "Crime in many communities is increasing, and it is known that repeat and prolific offenders and local organised criminal gangs are driving serious incidents of brazen and violent theft in stores.
"It is an ongoing challenge for all retailers, and often a flashpoint for attacks and abuse towards our colleagues. Co-op continues to invest significantly in keeping colleagues and stores safe. This includes extending our use of dummy display cases to deter the incidents of 'bulk-shoplifting' or 'looting', as it has been described, where criminals sweep products off shelves for re-sale.
"While we are doing all we can, we also need the police to play their part as too often, Forces fail to respond to desperate calls by our store teams and criminals operate in communities without any fear of consequences."
Last year, Scurri CRO Fergal O'Carroll spoke to Packaging Europe about the cost of doorstep parcel theft and how 'seamlessly integrating all components of the ordering, shipping, and delivery processes and systems' could help the packaging value chain combat the issue.
Another development saw Co-op collaborate with Polytag to implement unique-every-time QR codes and UV tags into its own-label, 2-litre PET spring water bottles. This is set to help usher in the development of a Digital Deposit Return Scheme (DDRS) and ensure visibility during the recycling process.
If you liked this article, you might also enjoy:
The Lidl approach to packaging sustainability
How did Brazil achieve its 100% aluminium can recycling rate – and can it be replicated in the EU?
Experts have their say on the EU's Packaging and Packaging Waste Directive revisions
A deep dive into the most important packaging sustainability trends and solution