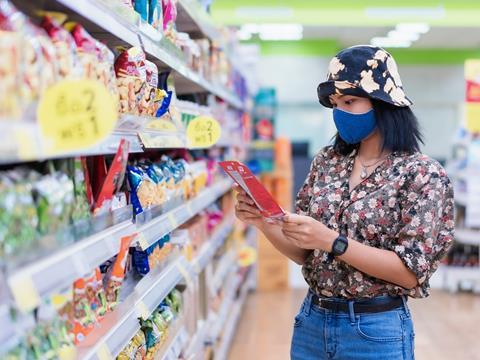 In a new study from Amcor, 52% of European consumers suggest that the impact of packaging on global warming is influencing their purchasing decisions, while 84% seek out written instructions for recycling before buying a packaged product.
Over 3,000 consumers from the UK, Italy, France, Germany, Sweden, and Poland were surveyed for the study. 84% look out for recycling instructions on a product's packaging, the results suggest, with clear recyclability and sustainability logos said to influence the purchasing decisions of 60% of respondents.
More specifically, 96% of Italian shoppers claimed to check a product's recyclability instructions before buying it, and UK customers' understanding of recyclability logos has apparently risen from 86% in 2020 to 94% in 2023.
Only 5% of consumers stated that they would pay higher prices for a product based only on its sustainability logos; if accompanied by a written explanation, this figure increases to 20%. Amcor highlights the similarities to the European Commission's Green Claims Directive, in which over 230 sustainability labels in Europe were thought to confuse consumers with a lack of clear, evidence-based information.
In total, though, 21% named plastic pollution as their biggest environmental concern – an 11% decrease compared to 2020.
Global warming has become the top priority, Amcor continues, in an increase from 45% in early 2020 to the current figure of 52%. In a 17% increase since 2020, 62% of Italian consumers expressed their concern surrounding the issue.
As such, the report emphasises that brands should transition into more sustainable packaging solutions and reduce their environmental impacts.
"As consumers become more aware of the environmental implications of their purchasing decisions, is it vital that consumer-facing brands and retailers take action," explained Gerald Rebitzer, sustainability director, Amcor EMEA. "Adopting more sustainable packaging – such as moving to recycle-ready solutions and including post-consumer recycled content in place of virgin resources – are key for brands to demonstrate their commitment to drive circularity, reduce their carbon footprint, and help consumers buy more sustainably."
Additionally, the report also points out that paper is the third most likely sustainability claim to influence consumers' purchasing decisions – Amcor attributes this to the prominence of paper recycling streams in Europe and a clear understanding of how to dispose of this material.
The responses are thought to align with the draft Packaging and Packaging Waste Regulation (PPWR), which would implement a minimum percentage of recycled content in all plastic packaging and mandate that packaging is designed for recycling from 2030.
"Since 2018, Amcor has been working towards our pledge to design all our packaging to be recyclable or reusable by 2025," Rebitzer continued. "In 2022, we announced that 83% of our global flexible packaging portfolio now has a recycle-ready alternative.
"Our commitment to recyclable packaging aligns with the need for expanding recycling infrastructure and supports the direction of the upcoming PPWR. This research further highlights the need for more sustainable packaging to support a growing circular economy while meeting consumer expectations."
According to surveys conducted by the University of Reading and its partners late last year, Polish and Spanish consumers were being held back from effectively disposing of their food packaging by a lack of understanding around its effective disposal. As such, it called for more widespread consumer education to cut down on packaging waste.
A joint study from McKinsey and NielsenIQ identified the reported effectiveness of multiple on-pack ESG claims in influencing consumers' spending habits, enabling companies to pursue both sustainability and commercial gain.
Tetra Pak has also called for a new framework for on-pack environmental labelling, and encouraged a greater understanding of the food industry's role in the pursuit of sustainability and net zero targets, in a recent report.
If you liked this article, you might also enjoy:
The Lidl approach to packaging sustainability
How did Brazil achieve its 100% aluminium can recycling rate – and can it be replicated in the EU?
Experts have their say on the EU's Packaging and Packaging Waste Directive revisions
A deep dive into the most important packaging sustainability trends and solutions