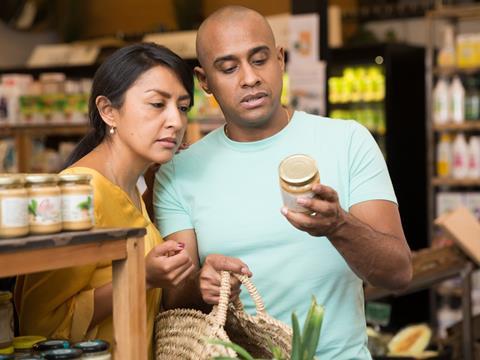 Tetra Pak has published a new report calling for the development of a new framework for on-pack environmental labelling to guide consumers in making sustainable spending choices, alongside a more thorough understanding of the role played by the food industry in the development of sustainability and net zero goals.
Research conducted by the company suggests that half of the consumers surveyed will take a brand's decarbonisation efforts or sustainability credentials into account when making a purchase. Nevertheless, the Government's Food Strategy does not address the importance of consumer engagement and behaviour in the pursuit of the UK's wider climate goals, according to Tetra Pak.
Oatly, Danone, WWF UK, and Wera Hobhouse MP, Liberal Democrat spokesperson for the Climate Emergency and Energy, were among the expert group consulted for the report, all of whom underlined the importance of labelling food products with their nutritional value to inform consumers' purchasing decisions, as is currently standard practice. They go on to argue that the same should apply to a product's environmental impact.
This should be a standardised process, the experts say, as this would minimise consumers' confusion, maximise their engagement, and ensure that they can compare product labels. Such labelling should also become mandatory once an effective system has been developed, the group asserts.
Other suggestions made in the report include methods of driving a circular economy in the UK, reducing food waste and loss via the setting of targets, and including requirements around the sustainability and environmental impact amongst school meal provisions. Meanwhile, it recommends that the Government make further progress in its waste and recycling agenda by uplifting the use of circular materials and running consumer awareness campaigns informing consumers about the true effects of their food choices.
"Current Government proposals fail to consider the important role consumers have to play in driving change as we look to decarbonise the UK's food system and meet our net zero goals," said Wera Hobhouse MP. "Even if we collectively stopped using all fossil fuels tomorrow, the current food system would still push us beyond the 1.5° target agreed in the Paris Climate Agreement.
"We have to address the way we feed our growing population and that has to be a journey we take consumers on. One of the simplest ways we can do this is by making them aware of the environmental impact food has, through clear labelling."
Alex Henriksen, managing director for North Europe and UK at Tetra Pak, added: "We must not underestimate the role we all have to play in the global food system, and how it must be decarbonised in order to meet global net zero goals. The Government should take action and support consumers to play their part.
"Tetra Pak will continue to drive the conversation that this report stimulates, which provides the Government with a clear next steps for actions to decarbonise the UK's food system. We hope they will review the report, and its recommendations, to continue to drive action in this area."
A previous Tetra Pak study asserted that manufacturers, consumers, and food producers alike are having difficulty prioritising sustainability amidst supply chain challenges, rising operational costs, and other issues.
Similarly, research conducted by WRAP warned that some plastic packaging solutions are forcing consumers to purchase more fresh produce than they need and creating confusion around Best Before dates – thus increasing food waste.
Cathy Teasdale, founder of !mpatience, also spoke to Packaging Europe about the importance of using packaging to facilitate educational dialogue between companies and consumers in order to avoid the pitfalls of 'greenwashing'.