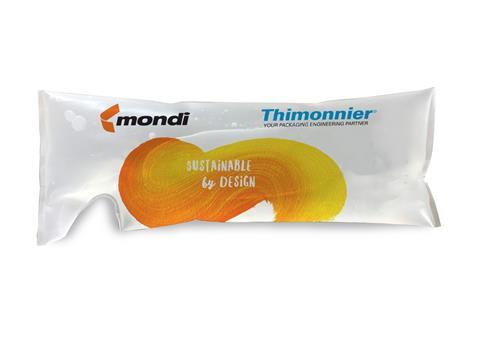 Mondi and the machine supplier Thimonnier have joined forces to develop a recyclable, mono-material polyethylene (PE) berlingot sachet for liquid soap refills.
According to the companies, the new packaging is made from mono-material, coextruded PE that weighs less than rigid plastic bottles, apparently reducing plastic usage by more than 75%. The companies add that the sachet is designed so that it can be entirely emptied.
The refill solution is aimed at replacing the current industry standard of multilayer PVC refill containers, which the companies say are effectively not recyclable. The refill packaging is reportedly durable and leak-proof, enabling the protection of products like liquid soaps.
For consumers, the companies explain that the unusual shape of the sachet is intended to be eye-catching and differentiated. The lightweight material apparently makes it more convenient for consumers, especially for those who are buying it in-store.
Eric Duhoo, general manager at Thimonnier, comments: "Our goal working with Mondi was to find a packaging alternative with low environmental impact and good runnability. We are pleased to have found a solution that achieves both."
Olivier Werbrouck, regional sales consumer flexibles at Mondi, adds: "Our Mondi Action Plan 2030 (MAP2030) sustainability framework sets ambitious goals to tackle global issues across the value chain: creating circular-driven packaging and paper solutions that are made by empowered people taking action on climate.
"We are proud and excited to partner with customers like Thimonnier to achieve our goal of keeping materials in circulation and making a real difference."
The berlingot refill packaging was launched during the 25th edition of the CFIA in Rennes, France, which ran from the 8th until the 10th of March 2022.
Earlier this year, Mondi partnered with Henkel on a recyclable mono-material PE pouch for the latter's Pril hand dishwashing liquid range, which will also be available in 100% recycled PET pump dispenser bottles.