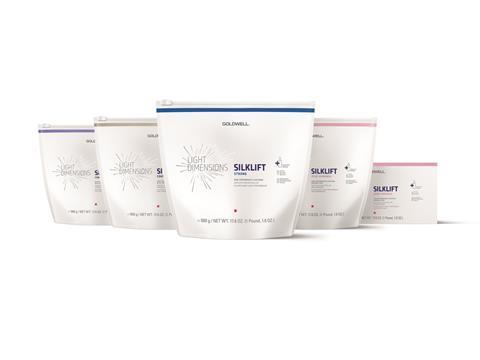 Mondi has worked with Kao's hair cosmetic brand Goldwell on a lightweight, mono-material stand-up pouch that reportedly offers an 80% reduction in plastic compared to the previous rigid packaging solution.
The redesign focused on Japanese consumer goods company Kao's Goldwell brand and its hair lightening range. Goldwell's hair care products were previously packed in rigid plastic containers.
Mondi's new solution for the brand involves a flexible, re-closeable stand-up pouch that it says is mono-material, meaning it is technically recyclable. The pouch is apparently easy to reclose with a recyclable top slider and tamper-evident membrane.
Additionally, the switch from a rigid container to a flexible pouch has reduced the overall amount of plastic in Goldwell's individual packs by 80%, the companies claim.
According to Mondi, the pouch is provided to the user together with paper instructions inside a carton box, enabling the pouch to be stacked when transported and stored. The company adds that the empty pouches can be folded flat to ensure efficient transport to the factory. This reportedly results in a lower carbon footprint compared to the previous packaging for Goldwell products.
When filled, Mondi says that pouches provide optimum protection for the product, preventing contact with incoming moisture or vapour that might render it unusable. This provides a safe solution as chemicals cannot diffuse through the tightly sealed packs, according to the company.
Iris Ross, regional sales for consumer flexibles at Mondi, says: "The solution we developed with Kao contains a chemical-based product that is particularly sensitive, so we needed to consider safety and quality at all times. The new packs are completely secure during shipment when filled and easy to transport.
"Kao is passionate about making the right changes for a more sustainable world while ensuring the high quality and user-friendliness of its products, to deliver the best customer experience. It was a pleasure to work with the Kao team on creating this product."
Elmar Mussenbrock, director of sustainability at Kao Salon Division, adds: "Sustainable packaging is one of the key elements of our ESG strategy and reducing plastic is our first priority – what hasn't been produced cannot cause any harm.
"With its great expertise and professional approach, Mondi has enabled us to deliver a much more progressive pack for our Goldwell LightDimensions SilkLift range, reducing the carbon footprint of the packaging by 65% compared to its former box."
Earlier this year, Mondi worked with Henkel to develop a mono-material PE pouch for its Pril dishwashing liquid brand that can be used in tandem with a 100% rPET dispenser bottle as a refill system.