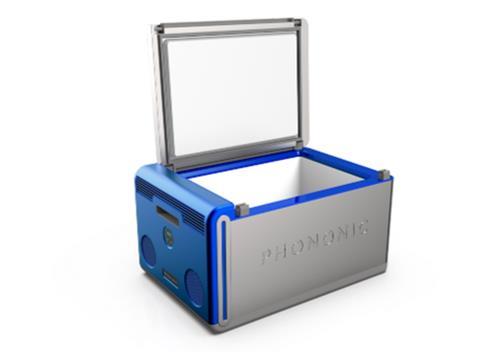 Phononic has released its Actively-Cooled Tote (ACT) 2000 cooling and freezing equipment for cold chain applications, featuring a proprietary thermoelectric-based cooling platform to combat toxic refrigerants and hydrofluorocarbons (HFCs) that contribute to global warming.
The new model expands upon the first Intelligent Actively-Cooled Tote, which made its debut last September, and is available in both refrigerator and freezer versions for retail and automation environments.
Its updated features reportedly include lightweight and ergonomically friendly design for ease of handling, alongside 33% more storage capacity for larger food items and multiple orders thanks to updated internal dimensions. Its thin walls and straight edges also claim to reduce the solution's weight to 21lbs and maximise the ROI for grocers.
The solution's UX is 'user-friendly' and apparently displays both cooling status and built-in IoT connectivity. Its built-in IoT connectivity reportedly powers a dashboard that can display such metrics as temperature history and energy consumption – aiming to enable operators to run the equipment as maximum efficiency.
Furthermore, its aluminium shell provides enhanced durability and recyclability, according to the company. A bidirectional opening in the lid is hoped to facilitate packaging flexibility; its replaceable friction hinges are designed to hold themselves open and reduce touches during picking, while a magnetic closure helps the tote stay closed and reserve energy. Operators can also remove the entire lid to maximise convenience and efficiency, Phononic states.
Its solid-state cooling is also said to surpass compressor-based systems, freezer pack, and dry ice solutions in its value and sustainability, with the company describing the equipment as the 'premiere solution for precise and secure cooling and freezing throughout the fulfillment ecosystem'. It also highlights the precision of the ACT 2000's temperature control, placing its freezer setpoint at -18°C and 3.3°C for the refrigerator version.
Accessories provided with the solution include mobile-powered carts for picking, staging, and curbside pickup; vertically powered storage racks designed to minimise storage footprint; and integrations into robotics automation.
"Grocers are facing a costly challenge to improve their fulfillment capabilities, particularly for perishable and frozen items, while achieving profitability, requiring a re-examination of the grocery fulfillment process," said Larry Yang, chief product officer at Phononic. "For the ACT 2000, our team incorporated the feedback and learnings from over 20 commercial installations to provide customers with a comprehensive solution.
"Currently, the approach for retailers in on-site grocery fulfillment is costly, losing $13 per $100 order. The ACT 2000 helps close this gap by being flexible and scalable and delivering a proven ROI on cold chain operations and ensuring critical food safety and quality – ultimately enabling retailers to meet the demands of e-grocery fulfillment."
The ACT 2000 is expected to meet both the internal sustainability and profitability goals set by customers and the regulatory proposal issued by EPA as a contribution to the reduction of pollutive HFCs produced in typical compressor-based grocer refrigeration.
Other companies have unveiled their own cold chain solutions in recent months. Peli BioThermal's temperature-controlled shipping solution is said to assist companies in their pursuit of environmental, social, and governance goals and optimise operational performance indicators, amongst other perks.
Moreover, a collaboration between Essentra Packaging and Advanced Material Development developed new Time Temperature Indicators (TTIs) for the pharmaceutical sector.