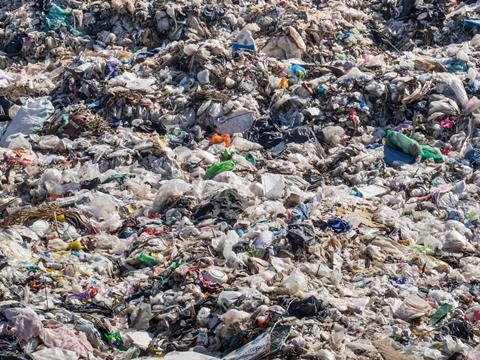 In its Global Commitment progress report for 2022, the Ellen MacArthur Foundation asserts that its target to completely implement reusable, recyclable, or compostable packaging by 2025 will 'almost certainly' be missed by most business signatories.
Produced in cooperation with the UN Environmental Programme, the report claims that flexible packaging and low investment in collection and recycling infrastructure are key reasons as to why the goal is unlikely to be achieved. This is especially true of flexible plastic packaging such as sachets and films, which are expected to become a particular hindrance to businesses due to their general difficulty when it comes to recycling.
Although the use of recycled content in plastic packaging is said to have doubled in the past three years and over half of business signatories are thought to have cut their use of virgin plastics since 2018, the report goes on to assert that the share of plastic packaging that is reusable has decreased to an average of 1.2%, and that the overall use of virgin plastics in 2021 had reverted back to 2018 levels with a 2.5% rise.
The 4.8% share of post-consumer recycled content recorded in 2018 reportedly rose to 10.0% last year, with the Ellen MacArthur Foundation reminding brands and retailers that it must continue to make 'exponential' improvements in its use of recycled content to meet its 26% goal in 2025. Some businesses are expected to exceed this target, while others are thought to have a long way to go.
It also argues that businesses are failing to meet targets for virgin plastic usage because they are increasing their use of plastic packaging, leading the Foundation to warn that expansion should not come hand-in-hand with an increase in packaging. The report is also critical of the fact that 42% of Global Commitment signatories have not introduced any reuse models into their packaging strategies, despite quantitative targets set by the 'first few' global brands in 2021.
In order for progress to be made, the Foundation is calling for 'ambitious strategies' to scale up reuse schemes, lesser reliance on single-use packaging, and the innovation of new materials to replace flexible plastic packaging wherever possible. It argues that relying entirely on existing recycling systems is not a feasible path to circularity, and that international governments must rally behind policy efforts to address the crisis and transition towards a circular economy.
Sander Defruyt, Plastics Initiative lead at the Ellen MacArthur Foundation, said: "The Global Commitment continues to provide unprecedented transparency on how major businesses are addressing the plastic pollution crisis. The latest findings demonstrate the need to urgently ramp up efforts – both from businesses and governments.
"Credible, ambitious plans are needed from businesses to scale reuse, to deal with the issue of flexible packaging, and to reduce the need for single-use packaging. Governments must take action to help accelerate progress.
"In parallel, we must work towards establishing an ambitious global treaty to end plastic pollution. Organisations such as the recently launched Business Coalition for a Global Plastics Treaty – convened by the Ellen MacArthur Foundation and WWF – are here to help governments grasp this once-in-a-generation opportunity."
Inger Andersen, executive director at UNEP, added: "The transparency provided by the Global Commitment helps us understand how large the gap is that we still need to fill. It is clear that big challenges remain as companies seek to make good on the Global Commitment.
"As countries embark on negotiations towards a global instrument to end plastic pollution, the Global Commitment provides an important framework to help accelerate action on combating plastic pollution.
"By joining the Global Commitment and engaging early in the process, governments can identify priority areas to end plastic pollution effectively and accelerate progress. In this regard, we are pleased to see that 34 additional national and sub-national governments across different continents committed to join the Global Commitment since the beginning of 2022."
The Ellen MacArthur Foundation recently partnered with WWF to form a Business Coalition for a Global Plastics Treaty, which aims to ensure that end-of-life plastics never reach incinerators or landfill, as well as establishing a consistent framework for all member states to abide by in their efforts to reduce plastic waste.
Following that announcement, we spoke to Carsten Wachholz, senior policy manager at the Foundation, who identified the 'three major areas' of driving down the rate of plastic production, circulating existing plastics, and optimising methods of dealing with inevitable leakage in the path towards sustainable plastic usage. He also highlighted the effectiveness of financial incentives in encouraging these efforts, alongside the importance of centralising human rights in conversations around sustainability.