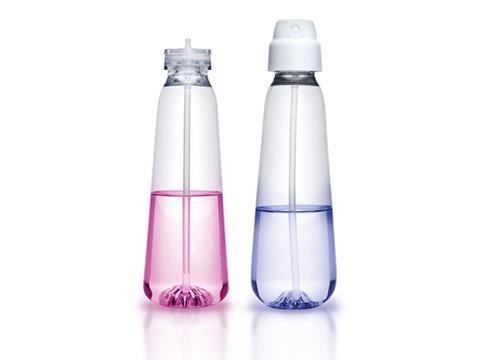 Plastipak has launched SprayPET Revolution, which claims to be a fully recyclable, 100% polymer aerosol container compatible with standard PET recycling streams.
Traditionally, PET aerosols still contain standard metal valves with rubber gaskets. Excluding metal from the design is intended to negate the need for removing non-plastic components to recycle the container, benefitting recycling facilities that are not equipped for such a process.
With the entire design said to be made from polymers – the valve itself is not made of PET, but other materials that reportedly culminate in a molecular density of 1g / cm3 – the SprayPET Revolution is supposedly recyclable in any PET processing plant without impacting its quality or contaminating the waste stream.
Plastipak explains that, in order for it to be recycled, the whole container is shredded. The flakes are sent to a separation chamber, where the differing molecular densities cause the PET to sink into the water and the other polymers to float to the surface. This way, the PET can undergo further processing, and both the PET and the polymers can be repurposed as new products.
Available as a dip-tube or bag-on-valve application, the design is supposedly compatible with rPET, and its production is thought to emit less carbon than standard aluminium containers. According to Plastipak, brands can apply sleeves or ink directly to the container using its Direct Object Printing technology, and can modify the shape of the bottle to differentiate it from other products.
"Plastipak is delighted to launch this exciting new technology which offers brand owners and fillers significant sustainability benefits in terms of recyclability and emissions savings," said Kurt Wolschleger, vice president of Consumer Cleaning & Aerosol. "SprayPET Revolution represents a huge step forward for plastic aerosols and is a game-changer for the aerosol industry."
Sidel recently released its own PET aerosol container in the form of PressureSAFE; it also claims to be recyclable in PET streams and possess a lower carbon footprint than aluminium containers. An added bonus, the company claims, is that PET comes at a lower price than its metallic alternative.
On the other hand, Ball Corporation has developed an aluminium container from its lightweight ReAl alloy while also claiming to halve the pack's carbon footprint with 50% recycled content and aluminium smelted with renewable energy sources.
After reporting a decrease in demand for aluminium aerosol containers since 2021 at the beginning of this year, AEROBAL noted a 5.5% increase in global shipments amongst its members towards the end of September.