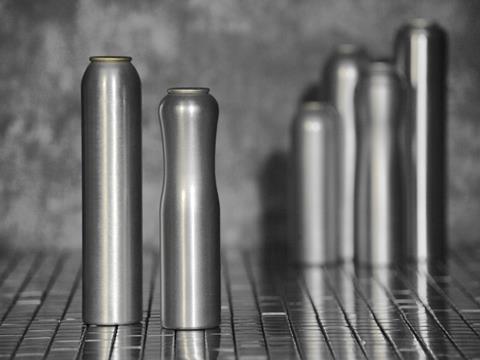 The International Organisation of Aluminium Aerosol Container Manufacturers (AEROBAL) has reported a 5.5% increase in global shipments by its members since the first half of 2022, the figure having risen to approximately 3 billion units.
It attributes the growth to increasing demand from three sectors: hairspray, which grew by 34% in comparison to 2021; household goods, which grew by 15%; and pharmaceuticals, which grew by 9%. Alongside the 1.2% contribution from the perfume and volume-dominant deodorant markets, these sectors made up roughly 57% of total deliveries.
70% of shipments to AEROBAL members were based in Europe or the Americas, which saw a respective 11% and 2.6% increase in demand. By far the steepest rise in shipments came from the Middle East at around 28%, while the regions of Asia and Australasia rose by 3.2%.
Yet producers of aluminium aerosol cans are cautious of a possible recession in the largest markets, which could drive down sales. Inflation is also said to be impacting consumers' financial expendability – a change that is feared to impact demand for fast-moving consumer goods such as body care products, which constitute around 80% of shipments to AEROBAL members.
"The global energy crisis, logistics bottlenecks and the lack of skilled workers are amongst the biggest worries of international aluminium aerosol can producers," says Wan Tsang Lin, president of AEROBAL. "In many regions energy and gas prices have recently skyrocketed and put can producers under great pressure.
"In addition, the industry is increasingly struggling to find skilled labour which has become a strategically important factor for all companies to stay competitive in future."
Even so, the recent interest in aluminium's sustainable properties is a promising sign. Wan Tsang Lin continues, "The material offers excellent properties such as good formability, lightness and unparalleled recyclability, which are relevant for improving the carbon footprint during transport, production and recycling, and thus contribute to resource-efficient packaging solutions."
Indeed, Alcoa, Rio Tinto and Emirates Global Aluminium are representing the aluminium industry in their backing of the Mission Possible Partnership's strategies to decarbonise the trucking, aviation, shipping and steel industries before 2030.
AEROBAL reported a 1.2% decline in global shipments in 2021, with the hairspray, household and pharmaceutical packaging experiencing high demand this year having previously dropped.
The organisation recently announced the winners of its World Aluminium Aerosol Can Award 2022, with designs by Trivium Packaging Brazil, Ball Aerosol Packaging and Linhardt receiving the honours.