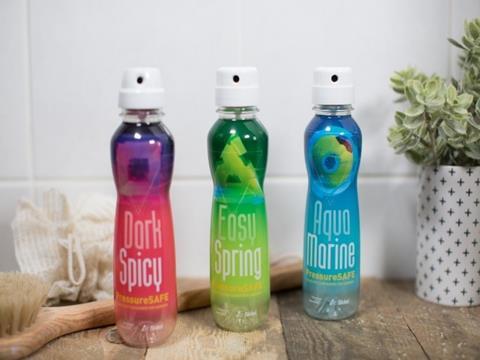 Sidel has launched PressureSAFE, a PET aerosol container suitable for home and personal care products, which is approved for recycling in traditional PET streams and reportedly offers a lower carbon footprint than aluminium alternatives.
Sidel claims that the PET aerosol container is resistant to pressure in order to maintain a safe structure and to protect against leakages, breakages, and rolling during transportation and storage. The company says that this makes the PET container as safe as metal aerosol containers.
In addition, the company suggests that the PressureSAFE PET aerosol container provides a competitive, sustainable alternative to traditional metal containers. Sidel reports that the average PET market price is lower than aluminium, while PET reportedly has a raw material carbon footprint that is almost half that of aluminium – 645g of CO2eq for aluminium compared to 380g of CO2eq for PET, based on a 150ml personal care product and according to the company's data.
PET aerosol containers are 100% recyclable and can be recycled within the PET stream, Sidel adds.
According to Sidel, the patented PressureSAFE container base design combines an optimised preform design and viscosity level with a specific vault shape, to offer a final product that is fully compliant with FEA and PARG aerosol regulations. The company's active mould base solution apparently provides the on-site production-line blower configuration to produce the aerosol spray design.
PressureSAFE is intended for use with products such as perfumes and deodorants, with Sidel aiming the container at home and personal care brands. The Sidel containers offer 220ml capacity with 150ml of product, alongside a neck finish that is suitable for regular valves.
The company adds that the nature of the PET aerosol container provides companies with greater design opportunities compared to traditional metal packaging. For example, Sidel explains that its unique container base design allows brands to incorporate specific patented structures with customisation such as belt and texturing options, and a conical or round shoulder. PET transparency also offers consumers direct visibility of the product, while brands can use decorative options such as a partial or full body sleeve to enhance marketing.
Mikael Derrien, packaging & tooling innovation manager at Sidel, comments: "The adoption of PressureSAFE aerosol containers enables companies to demonstrate their carbon-saving credentials, reflecting their own environmental commitment, while responding to the sustainability demands of their customers.
"We've taken our 30-years of technical design, innovation and packaging experience and translated this into the new PressureSAFE product.
"The PressureSAFE packaging base design combined with a specific mould base system, and the right preform design enables companies to maintain and enhance their competitive edge by being able to offer their customers brand-specific packaging that is safe, robust and environmentally friendly".
Other PET-focused innovations from Sidel include its patented Starlite Base Solution, which Competek has combined with its Supervent technology to produce lightweight PET bottles with both material and energy savings.