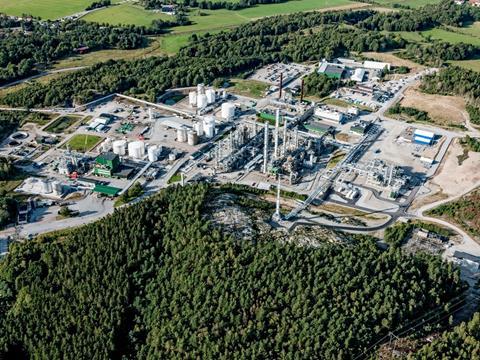 Perstorp has invested in a project set to supply its facility in Stenungsund, Sweden with wastewater from a nearby municipal treatment plant – a move expected to save 1.1 billion litres of fresh water every year.
The company uses water as a solvent for chemical reactions, a carrier for products, a medium for heat transfer, and for cooling, alongside other uses. Wastewater sourced from the treatment plant is set to be further purified and reused at Perstorp's Oxo production plant where, alongside other strategic investments, it will contribute towards the production of renewable hydrogen via electrolysis.
This hydrogen will be put to use in Project Air, an initiative aiming for climate neutrality in the chemical industry. Perstorp is working alongside Uniper in the hopes of producing sustainable methanol for chemical manufacturing through circular production methods, which is anticipated to drive down carbon dioxide emissions by around 500,000 tonnes every year – the equivalent of about 340,000 new cars running on fossil fuel.
"This exciting water treatment and recycling project will involve close collaboration with several partners in the Stenungsund region," says Andreas Utbult, Global Technology & Investment. "It exemplifies how Perstorp uses its technology expertise to transfer a sustainability vision into concrete investments."
The Stenungsund project is expected to become a part of Perstorp's ambition to become Finite Material Netural, which involves switching to 100% renewable, recycled, and reclaimed raw materials; preventing, reducing, recycling, and eliminating waste across the value chain; improving energy efficiency and using only renewable or recovered energy; and cutting down on the company's total water footprint and ensuring that neither the environment nor human health are impacted through its utilisation of water or water effluents.
"This is an important development of core technology for Perstorp," says Anna Berggren, vice president of Sustainability, in regards to the project. "We plan to implement it at more sites around the world in the future in our drive to reduce freshwater consumption.
"Fresh water scarcity is already a fact around the world. The chemical industry has a responsibility to reduce its use and find new solutions that can also support society as a whole."
A previous project coordinated by the Research Institute of Sweden sought to create bio-based products from excess waste sludge produced from wastewater effluent at paper and pulp mills.
Borealis has also signed a ten-year power purchase agreement with VERBUND to supply 220 GWh of hydropower to its operations in Schweat, Austria, from January 2023.