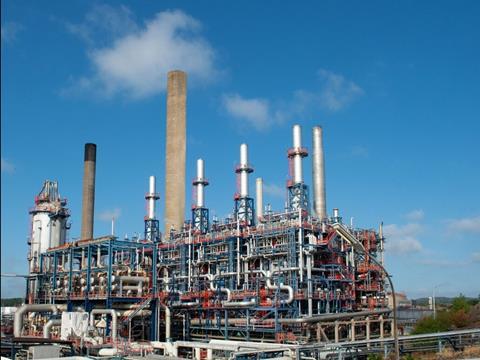 Borealis has upgraded four furnaces at its steam cracker in Stenungsund, apparently reducing its annual CO2 emissions by around 24,000 tons.
The cracker has a nameplate capacity of 625 kilotons a year, according to Borealis. Its purpose is to break down ethane, naphtha, propane, butane, liquefied petroleum gas, and other feedstock into smaller molecules; its output apparently contributes to power growth in the wire and cable industry.
Four of the facility's furnaces have been upgraded to meet modern standards of process safety, reliability, and thermal efficiency, with three further furnaces also set to augment their output. Two older furnaces are being decommissioned and will shut down completely by the end of the year.
Scheduled operations continued throughout the construction period, Borealis explains, meaning that each individual furnace had to be removed, demolished, and rebuilt. It is claimed that the seven-year project boasted an 'excellent' safety record, with no major threats to personal or process safety arising throughout the process of upgrading the furnaces.
"Our very highest priority in the Stenungsund furnace revamp was to achieve a stellar safety record while carrying out a project of this huge size and scope, and we have delivered on this ambition," says Wolfram Krenn, executive vice president Operations and Base Chemicals at Borealis. "Our upgraded facility is moving us closer to realising our broader Energy & Climate goals: thanks to the overhaul, the yearly CO2 emission reductions add up to approximately 24,000 tons which is the equivalent to the amount emitted on average by 6,000 European households each year.
"At Borealis, we are re-inventing the essential building blocks of plastics for more sustainable living."
Late last year, Perstorp aimed to save 1.1 billion litres of fresh water every year by investing in a project to provide its Stenungsund-based facility from wastewater from a nearby municipal treatment plant.
Meanwhile, INEOS Olefins Belgium previously secured €3.5 billion to fund the construction and operation of what hopes to become the most sustainable cracker in Europe. Based in the Port of Antwerp, it is set to produce ethylene, which will then be turned into polyethylene.
If you liked this article, you might also enjoy:
The Lidl approach to packaging sustainability
How did Brazil achieve its 100% aluminium can recycling rate – and can it be replicated in the EU?
Experts have their say on the EU's Packaging and Packaging Waste Directive revisions
A deep dive into the most important packaging sustainability trends and solution