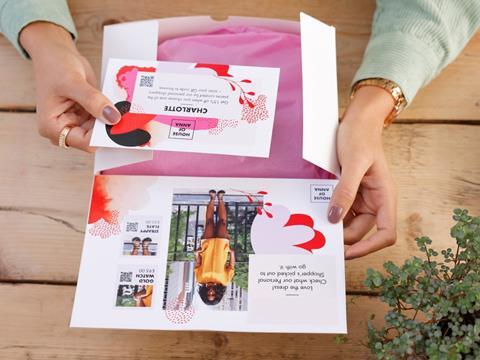 Penny Black has received £1.5 million in additional seed funding from AGFA and ninepointfive for its e-commerce marketing SaaS tool – a solution currently utilised by a range of brands for personalisation campaigns in product deliveries.
First launched in the UK and Europe in April 2022, Penny Black received an initial investment of £1.3 from AGFA and ninepointfive in October 2022; the further £1.5 million intends to help accelerate growth.
Numerous partnerships between Penny Black and customers such as toothbrush retailer SURI, gin brand Warner's Distillery, and health supplements retailer Zooki triggered the two investment funds.
Retailers and third-party logistics centres (3PLs) have apparently sought to differentiate themselves from competitors by utilising Penny Black's marketing SaaS tool, which is designed for e-commerce brands and is currently being deployed across Europe by Radial, Elanders, I-Fulfilment, Schroeders, and other global fulfilment providers.
According to recent trials, retailers using the solution and running personalisation campaigns saw a 'measurable uplift' in online sales. For example, SURI sought to drive customer referrals using Penny Black inserts and is said to have experienced referral share rates of up to 30%.
Reportedly, other brands reached up to an additional £2.20 in revenue for every insert sent.
"Penny Black's personalised inserts increased the size of our loyal customer base by six times; and once customers are in the community, their lifetime value (of sales) automatically rises," explains Krisi Smith, co-founder of tea retailer Bird & Blend Tea Co. "We can invite loyal repeat buyers to join the club, interact with fellow customers and take them on a physical journey of education and delight."
SURI co-founder and CEO Gyve Safavi continued: "As a young direct-to-consumer brand, enhancing our unboxing experience is a crucial growth opportunity for us. With Penny Black's platform, we're already seeing some brilliant results and delighting our customers.
"The integration with our 3PL was super simple, the personalisation process is intuitive, and with regular testing and iterating, Penny Black has helped us unlock tremendous value through this channel."
"Penny Black has solved the problem of creating a personalised unpacking experience for consumers in the world of e-commerce," says Kevin Rogers, MD of Elanders UK. "The technology allows us to produce highly personalised campaigns, printed on-demand in our distribution centres, with engaging communications that elevate the consumer experience. This adds value to the service we provide to brands and delivers a solution that few other 3PLs can rival."
Douglas Franklin, CEO of Penny Black, concludes: "The moment consumers open their order will be an opportunity for brands to entice and retain consumers, helping them drive more revenue from existing customers. Our software seamlessly connects e-commerce stores, marketing tools, warehouse management systems and fulfilment centres, making sure brands can bring in customer data and create hyper-personalised experiences and printed material that delights customers the moment they open purchases.
"3PL companies currently struggle to personalise e-commerce packages and can't do much beyond mass-printed, one-design, gift notes thrown inside. Our unique offering helps automate a revenue-boosting process for on-demand, beautifully designed printouts, specifically geared towards each customer, location, product or package.
"The moment consumers receive their online orders is the only touchpoint left for e-commerce brands to have a physical connection with them. Brands need to surprise and delight customers to secure their loyalty, especially when acquiring new ones can be so expensive.
"Riding the wave of global growth in e-commerce, we're delighted to be attracting more interest. And this latest boost in investment will help us develop even further."
Back in March, Recyda received €1.75 million in funding to expand its all-in-one SaaS tool, which compares packaging solutions and identifies the most appropriate for the purposes of individual customers. It is hoped to help companies achieve their circular economy targets.
Also, beverage brand Snapple has launched the Snapple fAIct Generator, an AI-powered, QR-activated tool that can create facts about any topic and contribute to marketing campaigns.
If you liked this article, you might also enjoy:
The Lidl approach to packaging sustainability
How did Brazil achieve its 100% aluminium can recycling rate – and can it be replicated in the EU?
Experts have their say on the EU's Packaging and Packaging Waste Directive revisions
A deep dive into the most important packaging sustainability trends and solutions