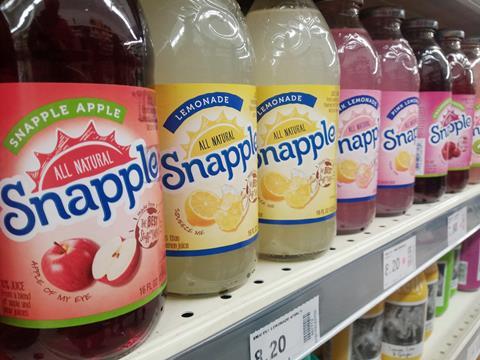 Snapple, a well-known US beverage brand that offers flavoured teas and juice drinks, has announced the launch of the Snapple fAIct Generator, an AI-powered tool that makes it easy to create facts about any topic, the brand of Keurig Dr Pepper (KDP) says. The generator can be accessed by scanning the QR on the bottle.
Celebrating 20-years of Snapple Real Facts, facts which are found under every Snapple bottle cap, the fAIct Generator puts fact-creation in the hands of the brand's fans. To help share the news of this new tool, Snapple used ChatGPT to write its press release, with some light edits to make it more Snapple-y.
The Snapple fAIct Generator, powered by technology from ChatGPT creator OpenAI, allows users to create and share facts via social media. Whether looking for a fact about a Snapple flavour, doughnuts, music, or a favourite furry friend, ChatGPT can deliver, says the company. The Snapple fAIct Generator will create a database of all newly created facts and some may appear under caps in 2024.
Since the start of Snapple Real Facts, there have been 1,677 facts. For inspiration, here are a few of the original Snapple Real Facts: 'Beavers can hold their breath for 45 minutes', 'Slugs have two noses', 'the average American consumes 23 pounds (circa 10kgs) of pizza every year', or 'You can't hum while plugging your nose', finally 'Astronauts in space cannot cry.'
"Snapple's fans have come to expect the unexpected from the brand, which is beloved for its variety, flavour and most of all, fun. Over the past 20 years, a central part of the fun Snapple experience has been the Snapple Real Facts under the cap," said Kelli Freeman, senior VP of marketing at Keurig Dr Pepper.
"The Snapple fAIct Generator makes it easy for a new generation of Snapple fans to experience the fun of facts in a tech-forward, and interactive way."
Consumers can visit SnapplefAIcts.com, or scan the QR code, to use the fAIct Generator to create their custom facts (Snapple fAIcts are generated with AI, so they can be wrong, skewed, or even inappropriate). As the company says: 'You never know what Snapple-licious fact you might learn!'
For a full update on active and intelligent packaging, come along to the AIPIA World Congress (co-organized by Packaging Europe) in Amsterdam on 14-15 November. The only smart packaging event covering the entire technology spectrum, the World Congress is a meeting place for the global active and intelligent packaging industry where brand owners, innovators, and other stakeholders can network and see and discuss the latest trends and innovations. Register to attend here: https://packagingeurope.com/aipia-world-congress/tickets