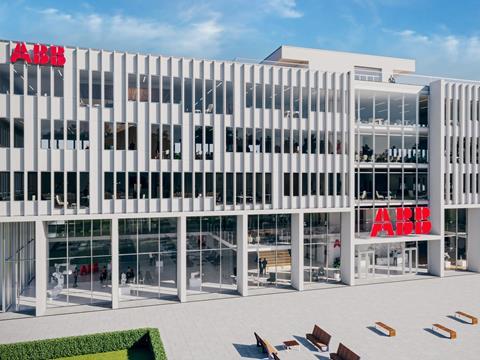 ABB will invest $280 million into a new, state-of-the-art Robotics Campus in Västerås, Sweden in an effort to expand its production capacity by 50%, boost its supply to the European market, reduce greenhouse gas emissions, and conserve resources.
Construction of the 65,000m2 campus is scheduled to begin in 2024. It will replace nine separate buildings that the company has built in Sweden since 1974; their combination into one facility is expected to strengthen cross-functional synergies and establish Västerås as an automation cluster by staying in proximity to ABB's customers, suppliers, academics, and partners.
The campus will house a new factory, offices, a research and development centre, an experience centre, and a training centre for customers and visitors. Autonomous mobile robots (AMRs) will also be present in the new factory to carry materials and products between the warehouse, assembly stations, and assembly departments.
Its construction will mark the investment of $450 into three ABB robotics facilities – including its mega factory in Shanghai and its facility in Auburn Hills, Michigan – since 2018. Once complete, the facility intends to help distribute AI-enabled collaborative and industrial robots across Europe, as the continent's market is expected to grow at 7% CAGR until 2027.
New automated developments can be tested and experimented with on-site, the company explains, with the facility open to employees, visitors, and students during and after office hours. It hopes to maintain rapid lead times, reduce time spent in transport, and lower the company's carbon footprint.
The building materials and construction processes – and the installation of solar panels on its roof – will be geared towards ABB's 2030 Sustainability Targets, including its goals of lowering greenhouse gas emissions, improving its preservation of resources, and achieving carbon neutrality in its operations.
Furthermore, the campus is set to offer digital solutions that contribute towards flexible automation as part of ABB's "local for local" production strategy, as well as facilitate close collaboration with customers and partners to develop further automation solutions.
"The investment in our new Campus is driven by customer demand and projected market growth," said Björn Rosengren, CEO of ABB. "Following important investments in China and the U.S, the new facility in Sweden will strengthen our capabilities in serving our customers in Europe with locally manufactured products in a growing market.
"Already today, around 95 percent of the robots ABB sells in the region are manufactured here. This is a strong commitment not only to our "local for local" strategy, but to all our robotics customers across Europe."
"This is a great time to invest in robotics and automation," continued Sami Atiya, president of ABB's Robotics & Discrete Automation Business Area. "This new Campus is a significant part of our global growth story and key in supporting our European customers as they accelerate investment in robotics and AI due to the reshoring of industry, the move to more sustainable supply chains and long-term labor shortages.
"Our Robotics Campus will help us to serve our customers more efficiently and support new and existing sectors like automotive, electronics, logistics, healthcare, e-commerce and pharmaceuticals to unlock the full potential of automation."
"Our new, sustainable facility in Sweden will be located at the cradle of ABB Robotics' global innovation, starting with ABB's development of the world's first commercial all-electric robot nearly 50 years ago", added Marc Segura, president of ABB Robotics. "In our new R&D center, we are focusing on the development of new digital and AI-enabled technologies, making robots increasingly accessible while lowering the entry barrier for applications in all industries."
This summer, ABB Robotics introduced four new models and twenty-two variants into its robot range. The move expected to offer energy savings of up to 20%, payloads ranging from 150kg to 310kg, and reach from 2.5m to 3.2m.
AGFA and ninepointfive have also supplied additional seed funding to Penny Black for its e-commerce marketing SaaS tool, which enables brands to insert personalisation campaigns into their product deliveries.
If you liked this article, you might also enjoy:
The Lidl approach to packaging sustainability
How did Brazil achieve its 100% aluminium can recycling rate – and can it be replicated in the EU?
Experts have their say on the EU's Packaging and Packaging Waste Directive revisions
A deep dive into the most important packaging sustainability trends and solutions