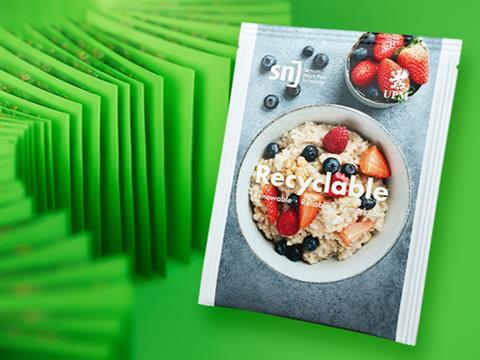 UPM Specialty Papers has tested several of its heat-sealable barrier papers on SN Maschinenbau's horizontal pouch machines in an effort to produce recyclable, renewable, fibre-based pouches for dry, frozen, and greasy foods.
As customers seek out machinery that is compatible with more sustainable packaging materials and heat-sealed pouches that do not utilise plastic, the combination of the UPM Confidio heat-sealable barrier papers with SN Maschinenbau technology is hoped to provide a sustainable solution for any application requiring heat sealing.
Since the barrier papers are being integrated into existing machinery, current SN customers are not expected to require new investments or drastic changes to their packaging lines.
"Compared to a paper-plastic laminate, UPM Confidio barrier paper offers a much higher level of fibre collection, helping customers achieve recyclability targets," says Esa Saukkonen, manager of Packaging Portfolio Development at UPM R&D. "According to certified recyclability tests, up to 99% of the paper can be recycled into raw material for new fibre-based products."
"The big trend for the entire packaging industry, especially for the major brand owners, in the coming years is certainly the switch to packaging made from sustainable and recyclable materials," continues Felix Eberhardi, team lead of Marketing at SN Maschinenbau GmbH. "We see that our customers are increasingly using paper to make their pouch packaging sustainable and recyclable.
"Therefore, it is important for SN Maschinenbau that we can assure them of the processability of new sustainable packaging materials, without compromising on quality. In some cases, this means adapting existing machines to new materials. For this reason, we have collaborated with UPM Specialty Papers and tested the compatibility of their heat-sealable barrier paper on our machines."
Live demonstrations of the pouches will be exhibited at the Siemens booth in Hall 6, Booth D27 at this year's interpack. Furthermore, UPM Specialty Papers in Hall 8, Booth 29 and SN Maschinenbau in Hall 6, Booth A61 will display samples of a specially made porridge pouch.
UPM Specialty Papers' booth will also present another recyclable, heat-sealable paper material developed in collaboration with Henkel. This, too, is apparently compatible with existing packaging lines and provides high grease resistance.
Last year, SN Maschinenbau enabled Mitsubishi HiTec Paper's recyclable, water-coated barrier papers to become compatible with its pouch packaging machines, while Parkside worked alongside Iceland to package its seafood range in a recyclable paper pouch.
If you liked this article, you might also enjoy:
McDonald's Director of Sustainability in Europe on the company's approach to packaging sustainability
McKinsey on whether or not on-pack sustainability claims affect consumer spending
Perspectives from industry-leading experts on the EU's Packaging and Packaging Waste Directive revisions
A deep dive into the most important packaging sustainability trends and solutions