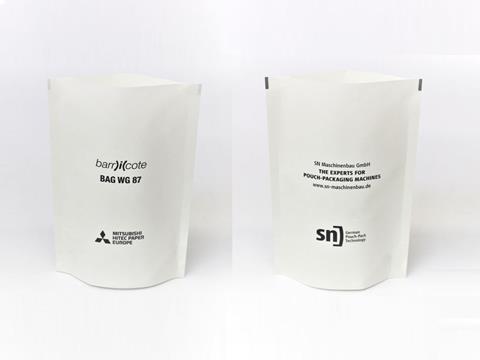 Mitsubishi HiTec Paper and SN Maschinenbau have collaborated on a solution that allows the former's recyclable, water-coated barrier papers to be processed on the latter's pouch packaging machines without the need for retrofitting.
Bielefeld-based speciality paper manufacturer Mitsubishi HiTec Paper says its barricote range offers recyclable barrier papers for flexible packaging of food and non-food. The company has previously collaborated with Smurfit Kappa on recyclable, food-safe paper-based packaging that protects against the migration of substances, aromas, moisture, and grease while offering heat-sealing properties.
Meanwhile, SN Maschinenbau is a Wipperfürth-based expert in horizontal form, fill and seal machines (HFF) for a wide variety of products, including food.
Mitsubishi HiTec Paper and SN Maschinenbau have collaborated on what they claim are numerous test runs that prove that the water-coated barricote papers can be processed on the latter's pouch packaging machines, reportedly just as reliably as films. This eliminates the need for costly retrofitting of the machine technology, according to the companies.
Andreas Carstensen, application engineer at Mitsubishi HiTec Paper, explains: "We were able to successfully test our barricote grades Liner MG, Liner MGO, BAG WG and BAG WGOM for use as stand-up pouches at SN Maschinenbau.
"All barrier papers performed equally in the process as established plastic materials. Our papers not only provide barriers against water vapour, grease, oil, oxygen and aroma but also against mineral oil migration. They are also recyclable in the waste paper cycle and are made from renewable raw materials, they are heat-sealable as well as FSC and PEF certified."
Reiner Müller, director of business development & global accounts at SN Maschinenbau, adds: "As one of the world's leading manufacturers of horizontally operating pouch packaging machines, we are delighted with the excellent cooperation with Mitsubishi HiTec Paper and the positive test results.
"This proves once again that a large part of today's sustainable mono packaging materials can be processed reliably without extensive adaptation of the machine technology. Furthermore, together with Mitsubishi HiTec Paper, we offer a solution for the increasing demand for paper packaging in the market."
Both Mitsubishi HiTec Paper and SN Maschinenbau will be exhibiting at Fachpack 2022 in Nuremberg between the 27th and 29th of September.