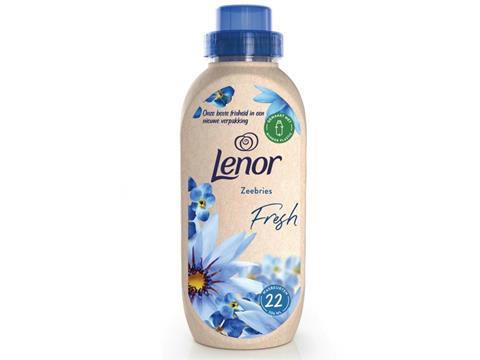 Procter & Gamble Fabric and Home Care has partnered with Paboco to run a trial for its Lenor liquid fabric conditioner brand in 'first-generation' paper-based bottles in the Netherlands.  
Running in Dutch supermarket chain Albert Heijn, the pilot aims to bring 120,000 paper bottles to supermarket shelves at the beginning of next year. 
The bottles are made of paper fibres from FSC-certified sources, but they do utilise an inner layer of recycled plastic, which the companies say will help to prevent leaks and ensure that the scent of the product is retained.  
Furthermore, the companies have announced their intent to waterproof future iterations of the design and work towards complete recyclability. A representative from Procter & Gamble told Packaging Europe that the bottle is already recyclable in certain EU countries, and the testing process for its confirmation is ongoing.
P&G states that the goals of its Fabric & Home Care division are to reduce its plastic usage by 30% by 2025 and halve its use of petroleum-based plastics by 2030. 
"Our vision to create a fully recyclable paper bottle that also holds liquids, protects the product, and maintains its integrity is an ambitious one," said Jerry Porter, senior vice president of R&D for the Global Fabric & Home Care Sector at P&G. "That's why we believe that driving meaningful progress through partners and industry collaboration is what's needed to get to this level of disruptive innovation. Each learning journey needs a starting point, and several iterations will be needed to achieve success." 
Florian Mueller, interim CEO and CTO of Paboco, added: "By working in partnership with P&G Fabric & Home Care we have been able to tap into their extensive knowledge in this sector. P&G's innovation expertise and deep consumer understanding has been vital in the market introduction of this first-generation bottle.  
"During the trial period, we will garner critical in-use feedback. These learnings, combined with P&G's size and reach, will enable us to work to towards our shared vision of a recyclable paper bottle at scale, delivering carbon footprint reduction solutions for the packaging industry."  
The trial was first announced last year in the wake of Unilever's 'first-ever' paper-based laundry detergent bottle, originally developed for the OMO laundry brand. Paboco's bottle was a finalist in this year's Sustainability Awards.  
Following its own trial using Paboco Generation 2.0 Fibre Bottles, Carlsberg Group's director of sustainability, Simon Boas Hoffmeyer, told us that paper bottles should serve as an additional option to single-use and reusable packaging designs. However, he suggests that the technology to produce such bottles is not yet advanced enough to implement at a commercial scale.
Jonathan Wragg, owner of CAP Environmental, also warns of the intricacies of replacing plastic packaging with paper, suggesting that "changing from a plastic bottle to a paper bottle may reduce the plastic waste but it won't reduce the waste. You're just swapping out one material for another." Nevertheless, he clarifies that switching to more biodegradable materials is still good practice, and that brands are only greenwashing if they make false or exaggerated claims in their marketing.