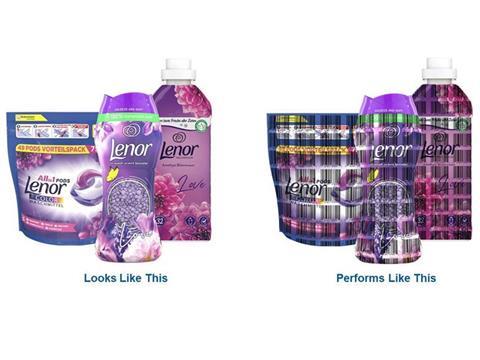 P&G is transitioning its laundry brand, Lenor, to shrink-sleeved transparent rPET bottles with digital watermarking in order to enable automatic sorting and enhance recyclability. We caught up with P&G to find out more about the new Lenor bottle, which is a finalist in the Recyclable Packaging category of the Sustainability Awards 2022.
You're a finalist in the Sustainability Awards 2022. Congratulations! To start off, could you summarise your entry, the new Lenor bottle, in less than 50 words?
At P&G we're driving circular packaging solutions through innovative packaging design for superior consumer delight with less environmental impact.
Lenor's new innovation represents the transition from opaque bottles with wrap-around labels to shrink-sleeved transparent rPET bottles, enabling 100% recyclability while pioneering a new technology to make our packages intelligent by integrating Digital Watermarks.
Why do you think the judges were impressed with your entry? Tell us about what is innovative about your project and/or about its impact on packaging sustainability.
Lenor brand is committed to P&G's Ambition 2030 goals which include 100% recyclable or reusable consumer packaging, therefore, we design for recyclability and circularity. In this context, we are proud to implement the perforated floatable shrink sleeve technology across Germany, Switzerland and Austria.
For total compliance with the requirements of the European PET Bottle Platform (EPBP) recyclability guidelines, our bottles have standard double perforation and consumer messaging (aligned to the A.I.S.E guidance and icon) to enable easy removal of the sleeve before disposal. In case a consumer would forget to remove the sleeve, we made use of floatable sleeves to facilitate waste sorting in recycling centres and used non-bleeding inks to ensure no contamination of existing PET recycling streams. To further educate consumers on sleeve removal, we also deployed a 'how to recycle' tutorial video on YouTube and Lenor branded websites.
It is also important to mention the challenges due to the limited shrink ratio vs. standard materials (non-floatable), and the difficulty to develop non-bleeding inks that are product resistant to ensure no artwork deterioration in case the product is spilt during filling operation and/or consumer usage.
We are also pioneering a new technology and introducing Digital Watermarks as part of the HolyGrail 2.0 initiative. Digital watermarks are codes that are invisibly embedded onto our labels to improve inefficient sorting by making our packaging intelligent. The codes guide the automatic sorting equipment on how the packaging should be sorted and recycled. This is a step forward to a future where packaging no longer becomes waste.
With Lenor's new packaging innovation, we will reduce our carbon footprint and save around 850 tons of virgin plastic and make around 1700 tons of plastic recyclable.
How has your innovation/initiative been received?
The new Lenor innovation was very well perceived by consumers and trade. With this new launch, we also focused on improving the sustainability profile of our formula on top of the packaging. According to the Life Cycle Assessment for Fabric Enhancers, a key contributor to the carbon footprint per wash is raw materials.
Therefore, we launched our first formula with plant-based softness using a combination of carefully selected plant-based oils with low carbon footprint and a revolutionary freshness release technology. Thanks to these innovations, our full Lenor liquid fabric enhancers now offer their best-ever freshness with plant-based softness with a reduced impact on the environment. We receive positive consumer comments regarding this new product launch which makes us proud.
You're shortlisted for the Recyclable Packaging category. What do you see as the key demands, challenges and opportunities in relation to recycling packaging?
We strongly believe in our Ambition 2030 plan that will allow us to reach 100% recyclable or reusable consumer packaging globally. Challenges are clear, e.g. barriers and mono material packages that are compatible with our product, capacity and availability for recycled resin. To meet our goals, it is crucial that we will keep innovating, partnering and working closely with the recycling industry to ensure that all developed packaging can be sorted and recycled in the right way.
A good example is the Digital Watermarks, as part of the HolyGrail 2.0 initiative, driven by AIM – European Brands Association, powered by the Alliance to End Plastic Waste – it is a collaborative effort designed to solve one of the largest obstacles facing plastic recycling: inefficient sorting and recycling at recycling facilities. Lenor was the first P&G brand to commercialize Digital Watermarks on some of its packages back in October 2020 which serves exactly this purpose.
The winners of this Sustainability Awards category will be announced at a dinner taking place at the Sustainable Packaging Summit in Lisbon on 13th-14th September 2022. To attend the ceremony, register here.