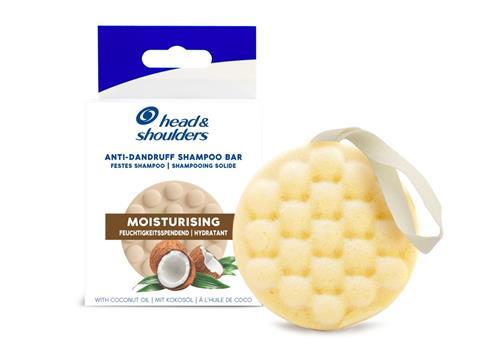 P&G brands Head & Shoulders, Pantene, Herbal Essences, and Aussie will now offer shampoo and conditioner bars in a volume equivalent to two 250ml liquid bottles, which will be packaged in recyclable FSC-certified paper boxes.
According to P&G, scaling back packaging with the introduction of soap bars for some of its most popular haircare brands will help to contribute to the company's aim of reducing the use of virgin plastic by 10,000 tonnes per year, which is equal to around 300 million bottles annually. The shampoo and conditioner bars will be sold in recyclable, FSC-certified paper boxes, the company adds.
P&G says that the new soap bars have been developed to meet consumer preference and match the performance of their liquid counterparts, with the shampoo bars intended to create a rich lather and scent while being highly effective at cleaning hair. As part of the launch, Head & Shoulders will offer what it claims is a market-first active antidandruff solid shampoo bar with scalp massaging properties, while Aussie will be P&G's first brand to provide a solid conditioner bar.
Each haircare bar will reportedly be equivalent to two 250ml liquid shampoo bottles. P&G adds that the bars for Head & Shoulders, Pantene, Herbal Essences, and Aussie products will all come in an easy-to-hold shape with an integrated cotton rope for hanging in the shower.
Arthur Litarowicz, head of P&G Beauty Europe, commented on the new range yesterday at the Reuters Responsible Business Summit: "Every day we are working to raise the bar in sustainability. And I am thrilled to say that to raise the bar again, we are now bringing highly performing handmade bars across the total P&G hair care portfolio in Europe - including Head & Shoulders, Pantene, Herbal Essences and Aussie.
"Not only do these innovations offer a delightful experience due to their unique formulas and shapes – but their boxes are paper-based with FSC certified paper, to further advance us on the mission to reduce virgin plastic."
Consumer research conducted by P&G Beauty apparently found that 75% of consumers would like to buy more beauty products with packaging made from recycled material, with 65% of consumers saying that they already try to buy plastic-free packaging. The survey included 24,000 people of all ages and genders from Brazil, Canada, Chile, China, France, Germany, Italy, Japan, Mexico, Spain, and the UK.
P&G worked with Paula Chin, sustainable materials specialist at WWF UK, ahead of the Reuters Responsible Business Summit with the intention of incorporating the organisation's perspective on the role of brands in impacting, at scale, plastic waste reduction.
Chin said: "Plastic pollution is one of the most visible symptoms of the environmental crisis we're facing and it's devastating our natural world. Businesses, governments and households have all got an important part to play in tackling this.
"Consumers are rightly concerned about this issue so it's great to see P&G playing their part to drive down the use of plastics with this new range. But we need even greater action to tackle the triple planetary crisis of climate change, biodiversity and nature loss, and pollution and waste."
In 2020, P&G Beauty launched a scaled refillable bottle system providing Head & Shoulders, Pantene, Herbal Essences, and Aussie products in reusable aluminium bottles and refill pouches. P&G has committed to achieving net-zero greenhouse gas (GHS) emissions across its supply chain by 2040.