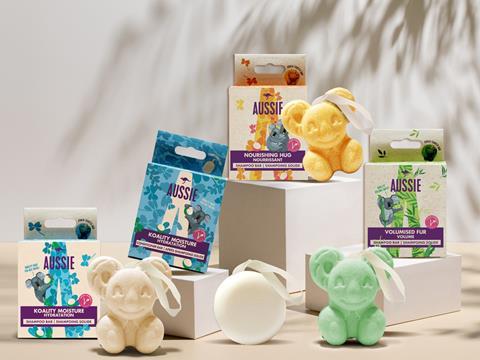 Earlier this month, Procter and Gamble announced that its Head & Shoulders, Pantene, Herbal Essences, and Aussie brands will now offer shampoo and conditioner bars in a volume equivalent to two 250ml liquid bottles, which will be packaged in recyclable FSC-certified paper boxes. Artur Litarowicz, P&G's head of beauty Europe, tells us more.
For people who may have missed the initial announcement, could you introduce P&G's new shampoo bars and talk a bit about the market drivers behind the launch?
Absolutely. Back in October 2020, we made a promise. We announced that we would make our shampoo bottles recyclable and reduce the use of virgin petroleum plastic in those bottles by 50% by the end of 2021. I am proud to say it's a promise made, and a promise kept.
Last year in Europe across our four hero haircare brands, we halted the production of the equivalent of 300 million virgin petroleum plastic bottles, saving 10,000 tons of plastic per year. We listened to consumers, and now more than half of our shampoo bottles are made from 100% recycled plastic in Europe.
We are proud of the progress but also know that much more needs to be done. We want to raise the bar on sustainable superior innovation and packaging once more. I'm really excited about the newest innovation from P&G Hair Care Europe which is entering the markets as we speak.
This sees Head & Shoulders, Pantene, Herbal Essences and Aussie launch their first high-performing shampoo and conditioner bars. All of them have unique formulas that elevate and delight consumers' haircare experience without compromise. For example, Head & Shoulders, which is the leading global anti-dandruff brand, will be, to my knowledge, the first brand to pioneer at scale an active anti-dandruff formula in a solid shampoo bar.
This way we can bring an antidandruff solid solution to millions who suffer from dandruff. Another example is Aussie, which is becoming our first household brand to launch a solid conditioner bar. Our household brands enable us to bring products to market at scale and offer superior shampoo bars to loyal fans of our brands in millions of households across Europe.
Could you talk a bit about the advantages this format has over conventional alternatives, as well as the potential drawbacks?
Yes, through our research, we know that consumers are eager to be more sustainable and are urging brands to help them. With our scale across Europe, we are providing that opportunity. Whilst the solids hair care market size differs by markets significantly (on average it is around 2% and in some places like Germany it represents almost 4% of total hair care sales) we do expect this segment to grow, and we want to help drive that.
To help drive adoption of this sustainable form we are launching at scale high performing handmade shampoo bars that lather very well, have amazing scents and shapes as well as a little rope so they can be stored easily in the bathroom to help overcome the trial barriers that exist for this form today. Thus, we are raising the bar, so consumers do not have to compromise on performance
Can you put this into the context of P&G's overall packaging sustainability efforts and goals?
P&G's Ambition 2030 Goals are the foundational goals of P&G Beauty. For our P&G Responsible Beauty platform we have set additional broad-reaching goals. These goals represent our vision to be a positive force for beauty in the world. Our high-performing shampoo bars launch at scale is another step in our responsible journey and our continuous efforts to raise the bar.
To reach these goals, packaging is very important. New global research conducted by P&G Beauty reveals that 75% of consumers would like to buy more beauty products with packaging made from recycled material. Indeed, a significant proportion of consumers (65%) already try to buy plastic-free packaging. P&G Beauty Europe's first paper packaging innovation for its solid haircare range marks the continuous journey to deliver on its sustainability commitments at scale.
Since 2021, P&G Hair Care Europe has reduced virgin petroleum-based plastic usage by 50%, equivalent to 300 million virgin petroleum-based plastic bottles less per year (vs. 2016) via: i) introduction of more and more post-consumer recycled plastic into regular bottles, ii) the refill system that helps consumers to reuse. The launch of solid bars at scale will further contribute to the reduction of virgin petroleum-based plastic usage
P&G's critics argue that your company still isn't doing enough to combat the issue of plastic pollution and single-use packaging. How would you respond to these claims, and are P&G's efforts in this field going far enough?
As P&G we have very ambitious 2030 sustainability goals, including making 100% of our packaging recyclable or reusable. At P&G Hair Care, we started our packaging reduction journey in 2016. Since 2021, P&G Hair Care has reduced virgin petroleum-based plastic usage by 50%.
Regarding product usage, we are also reducing our footprint. For example, in our portfolio we have leave-in conditioners that do not require rinsing to use them.
You say the launch of the new shampoo bars is backed up by consumer research. Could you introduce the key findings of this research to us?
We know people want to live more sustainably. To better understand this, we commissioned new research focusing on what influences consumer behavior in the bathroom and - perhaps most importantly - what gets in the way of more sustainable routines.
The bathroom is where many wellness needs are fulfilled: essential grooming, daily rituals to refresh and prepare, pampering to relax and recharge energy. We believe it should be a sanctuary where people can focus on themselves free from confusion or guilt about sustainability – so we want to make it as easy as possible for everyone to do the right thing.
The Green Bathroom White Paper consists of research where 24,000 adults — all ages, all genders — from 12 countries were surveyed to explore and better understand the most important drivers of sustainable consumer behavior in the bathroom, from recycling habits to water and product use. Achieving behavior change is never simple. This study shows there are opportunities for quick wins, but some of our findings challenge us all to examine our habits and lifestyles at a more fundamental level.