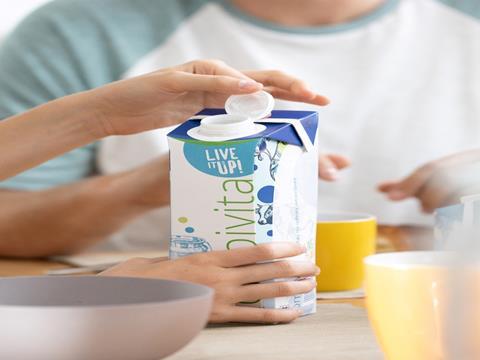 SIG unveils its new family-size aseptic carton pack, combivita, which it says is aimed at busy consumers and offers on-shelf differentiation, flexibility in the filing process, and sustainability features for brands.
combivita is available in 500, 750 and 1,000 ml sizes, with a slanted top, curved back, and wider opening that, according to SIG, ensures smooth and simple pouring for people of all ages. It will also feature the company's tethered resealable closure, truTwist, which is 32.5 mm in its external diameter and apparently easy to open.
SIG says the combivita range was developed based on extensive consumer-centric research.
According to Ali Kaylan, senior vice president of Innovation at SIG: "The pandemic has fuelled a paradigm shift in consumer habits, including working from home and buying products in advance.
"As a result, the demand for convenient family-size products and packaging formats has grown exponentially.
"Our new combivita carton pack makes life more simple, convenient, flexible and sustainable for both consumers and our customers."
For beverage manufacturers, the side corner panels of the combivita carton reportedly provide additional on-pack branding opportunities that could boost shelf presence. An ultra-thin later of ASI-certified aluminium can be added to provide barrier properties for products sensitive to light and oxygen, according to the company.
SIG claims that the combivita range also comes with environmental and sustainability benefits. For example, the pack has been designed by the company to be "highly robust", apparently enabling 100% pallet utilisation while reducing secondary packaging and logistic costs when comparted to existing carton formats.
In addition, the company says that 100% of the cartonboard used to manufacture combivita is sourced from FSC-certified forests, while the manufacturing process uses renewable energy. combivita can reportedly also be combined with SIG's SIGNATURE packaging material, where the polymers are also linked to forest-based materials.
The combivita family-sized carton packs will be the first to be filled on SIG's next generation filling machine, SIG NEO.
Earlier this year, SIG launched a range of tethered caps for beverage cartons, apparently made from polymers with renewable, forest-based materials – a solution for companies seeking to meet EU regulations that will make tethered caps compulsory from July 2024. The company has also introduced paper straws for its aseptic carton range, beginning with the Spanish milk brand CAPSA, also in response to EU legislation regarding single-use plastic.