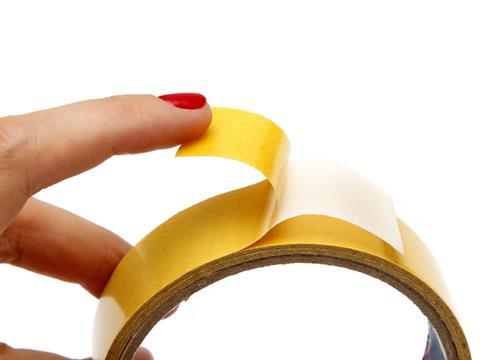 Ahlstrom has unveiled a new range of release papers – made from recycled and unbleached cellulose fibres – for double-sided Pressure Sensitive Adhesive (PSA) tapes, expecting to offer a carbon footprint reduction of up to 20%.
As an expansion of Acti-V Industrial, Ahlstrom's dedicated range of high-performance release liners, the range features Acti-V Industrial RF Brown, incorporating 30% post-consumer recycled fibre in a conventional brown colour; and Acti-V Industrial RF Natural which, based on at least 15% post-consumer recycled cellulose fibre and unbleached cellulose fibres, comes in a natural kraft colour.
According to Ahlstrom, both products replace a portion of virgin fibres with post-consumer recycled alternatives. Acti-V Indsutrial RF Natural is thought to eliminate all dye use and, according to a cradle-to-gate study set to undergo third-party verification in the coming months, reduce the carbon footprint of standard Acti-V Industrial liners by between 17% and 20%.
The new line is expected to maintain the performance of the Acti-V technology and facilitate an efficient coating and converting process for silicone, thus reducing the consumption of energy, catalysts, and silicone. It also aims to meet increasing demand from tape producers for sustainability-minded liner solutions.
Fedrigoni Self Adhesives' new Re-Play product line seeks to upcycle glassine backing from self-adhesive products into a new premium labelling solution.
The paper-based backing, natural rubber adhesive, and bio-based resin applied to tesa's 60408 packaging tape have resulted in a total bio-based carbon content of 92%, according to the company.
Alternatively, Avery Dennison's FSC-certified, phenol-free AD XeroLinr DT direct thermal linerless solution aims to reduce waste in the e-commerce and logistics industries.
If you liked this article, you might also enjoy:
The Lidl approach to packaging sustainability
How did Brazil achieve its 100% aluminium can recycling rate – and can it be replicated in the EU?
Experts have their say on the EU's Packaging and Packaging Waste Directive revisions
A deep dive into the most important packaging sustainability trends and solutions