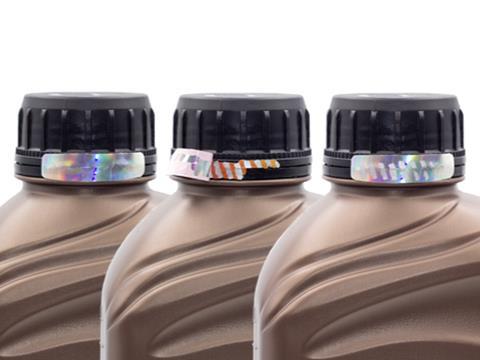 Securikett seeks to prevent illegal product refills by applying its HighContrast technology to security closure labels for the tamper-proof sealing of packaging with screw caps or hinged closures.
The development is apparently suitable for tubes, jars, and plastic containers. When closures are unscrewed or flipped open, the label is destroyed across its integrated punching; this ensures that the opening is clearly visible while also ensuring that the label cannot be stuck back down or reused.
As such, it expects to protect consumers against illegal refills and ensure tamper protection.
"If the label is cut open along the closure cap, the security seal will curl," explains Vanessa Mitterer, head of Research and Development. "With conventional seals, this type of opening is often not immediately visible to the naked eye. With this seal, you can see this at first glance."
Earlier this year, Securikett developed HighContrastVoid, a transparent security label that, in an additional security measure, reveals a previously unseen motif when peeled off.
Schreiner MediPharm has also developed Needle-Trap, a unique label with integrated label protection via a special seal to indicate that a prefilled syringe has been opened before; as well as its specialty Void-Labels, which leaves a complete coating layer on the packaging to prevent reclosure.
Linksmart's reusable security seals for transport packaging have also reached the finals of the Sustainability Awards 2023 under the commercialised E-commerce category.
If you liked this article, you might also enjoy:
The Lidl approach to packaging sustainability
How did Brazil achieve its 100% aluminium can recycling rate – and can it be replicated in the EU?
Experts have their say on the EU's Packaging and Packaging Waste Directive revisions
A deep dive into the most important packaging sustainability trends and solution