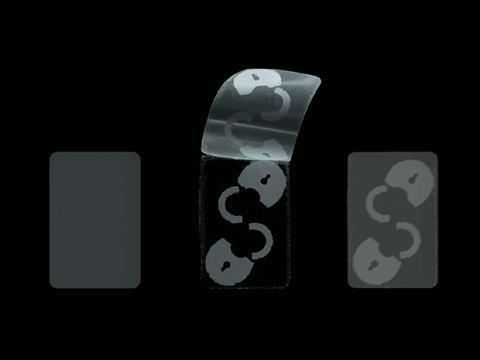 Austrian security label producer and longstanding AIPIA member Securikett, a global specialist in the field of product and brand protection, has succeeded in creating a completely transparent security label with a particularly impressive opening effect, it says.
The label, called 'HighContrastVoid' is a completely invisible label that blends seamlessly into any product or packaging design without changing the external appearance of the product, according to the company. At the same time, it offers the highest level of product protection.
This breakthrough in tamper-evident void label technology lowers the barrier of entry, says Securikett, since these labels can be placed over existing text and graphics without impacting the look or readability of the current package or requiring a package redesign, it claims. Additionally, the fully transparent label provides a particularly impressive and impactful opening effect.
While the label is totally inconspicuous initially it turns into an eye-catcher when peeled off, which makes it particularly conducive to use in the luxury sector, the company believes. A previously invisible motif becomes visible when peeled off. This motif can be customized, allowing, for example, the subtle integration of a company logo.
Vanessa Mitterer, head of the R&D department at Securikett, explains, "The completely transparent design of the labels means that customers do not have to make any changes to the packaging design and the appearance of the product is not affected in any way. On the other hand, the surprising opening effect leads to an unforgettable 'unboxing' experience for the consumer."
Dr. Marietta Ulrich-Horn, managing partner and founder of Securikett added, "We are convinced that the HighContrastVoid label is another important step towards being able to meet the increasingly high demands of our customers in the future."
For a full update on active and intelligent packaging, come along to the AIPIA World Congress (co-organized by Packaging Europe) in Amsterdam on 14-15 November. The only smart packaging event covering the entire technology spectrum, the World Congress is a meeting place for the global active and intelligent packaging industry where brand owners, innovators, and other stakeholders can network and see and discuss the latest trends and innovations. Register to attend here: https://packagingeurope.com/aipia-world-congress/tickets