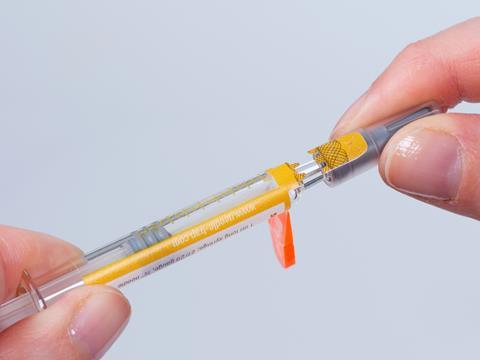 Needle-Trap, a unique label with integrated needle protection from pharma label specialists Schreiner MediPharm, has been complemented by a completely new security feature, says the company.

A special seal indicates that the prefilled syringe has been opened before and helps protect its integrity up to final use. The novel combination of needle and product protection will be showcased for the first time at Pharmapack in Paris, in early February.
A secure supply chain and integrity of drug packaging are important aspects for pharmaceutical manufacturers. Regulations such as the EU Falsified Medicines Directive (FMD) contribute to supply chain security but address only secondary packaging. By contrast, primary containers like prefilled syringes require more specific solutions for tamper evidence and first-opening indication.
Due to its integrated plastic trap, the Needle-Trap needle protection label poses special challenges to a first-opening indication feature. As well as smooth processing in pharmaceutical manufacturing operations, ease of use by healthcare staff also must be considered, it says.
The company has developed and complemented Needle-Trap by integrating, within the needle protection label, a novel kind of closure seal with a tab ending on the syringe cap. Before the injection, the needle trap is first folded sideways as usual.
While the cap is being pulled off, a perforation automatically activates the label-integrated seal, which irreversibly indicates the first opening of the label. Special security cuts prevent undetected removal of the seal. Overt authentication features such as a guilloche pattern or covert security features can be added for enhanced authenticity verification.
The addition of the new feature provides pharmaceutical manufacturers with a multifunctional and cost-efficient solution. It combines the protection of healthcare staff against needlestick injuries with first-opening indication ensuring the integrity of the prefilled syringe on a unit level. Product and patient safety is enhanced, according to Schreiner.
The new Needle-Trap version can be easily integrated into existing pharmaceutical manufacturing processes, it claims. Healthcare staff benefit from efficient and reliable needle protection as well as a convenient first-opening indication that is irreversible and detectable at first glance.
This article was created in collaboration with AIPIA (the Active and Intelligent Packaging Industry Association). Packaging Europe and AIPIA are joining forces to bring news and commentary about the active and intelligent packaging landscape to a larger audience. To learn more about this partnership, click here.