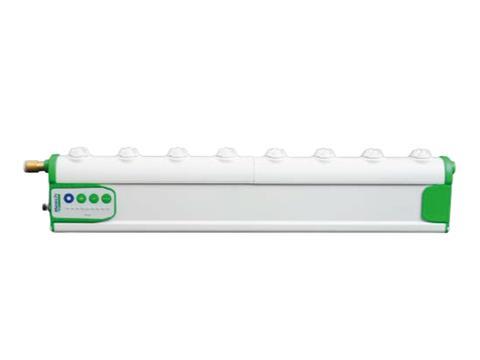 Meech International will present a high-accuracy ionising bar set to prevent damage from electrostatic discharge in such applications as RFID tag manufacturing, amongst other static control and web cleaning systems for labelling applications, at Labelexpo 2023.
The Hyperion 650QAC – designed for ESD-sensitive applications where static charges need to be controlled at very low levels – will make its debut at the event. Its titanium emitter pins are driven by a Quasi AC (QAC) high-voltage waveform, which generates positive and negative ions from each pin to deliver rapid charge decay with 'near-zero' residual voltage.
One example of its potential applications is RFID tag manufacturing, which sometimes generates static in the unwinding, printing, drying, and rewinding process; this can then be stored in the metallic antennae, discharge to the chip, and cause 'catastrophic failure' or 'latent defects'.
By installing 650QAC bars on the unwind, after nip drives, or at any point where friction or heat is applied is said to control the static charges on the substrate and manage voltage levels. As a result, the risk of electrostatic discharge on the neutralised object is thought to decrease, thus lowering the risk of damage to electrical component applications.
The solution is designed for use at operating distances between 50 and 400mm and includes a built-in keypad for setting different configurations.
Other label and packaging printer solutions from Meech will be displayed at the event, including CyClean, a compact, non-contact web cleaner for high-tension webs. Apparently suitable for narrow webs of up to 700mm, it claims to be compatible with a range of applications.
An enhanced version of the CyClean, CyClean R, will also be showcased. It is a single or double-sided non-contact web cleaner that employs positive and negative airflows to minimise air consumption while cleaning low-tension webs, especially wider webs. It is completed with the integration of Meech's 924IPS bars.
VacClean is another non-contact cleaner designed to remove contamination from webs without making physical contact; this is thought to optimise production flow and maintain product quality. Meanwhile, contact cleaner TakClean reportedly offers "superior" cleaning capabilities to prevent contamination and offer consistent product quality.
Meech's SmartControl Touch LAN automation device is set to offer operators control over static bar performance with the ability to adjust operating settings remotely and access real-time information. These features claim to ensure high-quality output and maximise productivity.
Its range of Hyperion static bars – A924IPS, A960IPS, and A971IPS – are designed for short, medium, and long-range applications, respectively. Each can be integrated easily into production lines, says Meech, and controlled through the SmartControl system.
A combination of the IC30 static generator and Hydras pinning head also forms an In-Mold labelling system for the temporary bonding of materials and precise label application.
The whole range is intended to address issues with contamination and machinery in the narrow web, label, and packaging sectors. In turn, it hopes to improve productivity and optimise production flow.
"Labelexpo is a major highlight for Meech, as it offers the ideal platform to showcase how our products are revolutionising label production," explains Ian Atkinson from Meech International. "We are delighted to showcase an exciting lineup of products this year. These cutting-edge solutions deliver exceptional performance, reliable connectivity, and ease of use."
Last year, Cortec Laboratories revealed its EcoSonic VpCl Static Dissipative Stretch Film, a recyclable specialty film for applications such as electronics and fertilisers.
Cortec Advanced Films also developed a recyclable self-seal bubble bag with electrostatic discharge protection and vapour corrosion inhibitor film and bag technology. This sought to protect electronic components from being damaged in the manufacture, shipping, and storage processes.
If you liked this article, you might also enjoy:
The Lidl approach to packaging sustainability
How did Brazil achieve its 100% aluminium can recycling rate – and can it be replicated in the EU?
Experts have their say on the EU's Packaging and Packaging Waste Directive revisions
A deep dive into the most important packaging sustainability trends and solutions