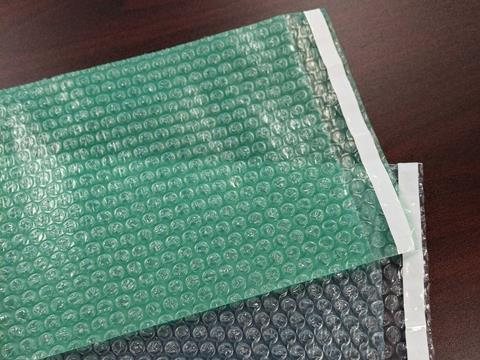 Cortec Advanced Films has unveiled a new, reportedly recyclable self-seal bubble bag utilising electrostatic discharge (ESD) protection and vapour corrosion inhibitor (VPI) film and bag technology – aiming to prevent electronic components from being damaged throughout the manufacture, shipping, and storage processes.
The EcoSonic ESD Self-Seal Bubble Bags are said to be powered by Nano VpCI, Cortec's vapour phase corrosion inhibitor (VpCI) made of superfine particles. While the company states that ESD protection is an upheld standard within the electronics industry, the bags combine it with VPI technology in hopes of staving off corrosion, triboelectric charge generation, and physical damage all at once.
Designed for simple use, the bags require customers to place their components in a bag, peel off its white strip, and fold the top layer to seal it. It is thought to protect such metals as carbon steel, aluminium, copper, silver, brass, and stainless steel, but it can also be used to package non-metallics such as plastics, optics, and elastomers. Subsequent processing like cleaning, welding, and soldering are also thought to be unaffected by the VpCIs.
It is claimed that the VpCIs saturate the enclosed airspace of the packaging and form a molecular layer around the products inside without leaving behind a film or residue. This is thought to prevent corrosion from occurring in metals, with the bubbles also taking on the role of cushioning, dunnage, and void-fill material.
Such qualities are apparently useful for shipping or exporting electronic products – which may contain more than one type of metal – across long distances, where fluctuations in temperature and humidity can encourage corrosion thanks to the resultant condensation. They are expected to save computer companies from the high costs of climate-controlled warehousing to store their electronics in hot and humid locations.
Once the packaging has served its purpose, Cortec claims, it can be recycled at facilities compatible with LDPE recycling streams. This is a quality the material shares with Cortec Laboratories' EcoSonic VpCI Static Dissipative Stretch Film, which is claimed to prevent static discharge where it could cause dangerous packaging conditions.
Absortech takes a different approach to preventing corrosion, asserting that its calcium chloride desiccants tackle the issue at the root by absorbing moisture from the air – suggesting that "often other methods need reconditioning after shipping" and therefore "they are not efficient from a sustainable point of view."