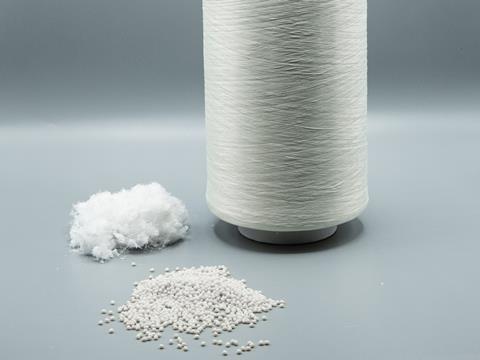 EREMA has unveiled INTAREMA FibrePro:IV, its new fibre-to-fibre recycling solution for PET that claims to process shredded fibre contaminated by spinning oils back into filament fibre, carpet yarn, and stable fibre.
PET is frequently utilised in the production of synthetic fibres, with around two-thirds of the total volume produced reportedly turned into fibres for the textile industry. EREMA's INTAREMA technology has been combined with a new IV optimiser in a new system said to generate fresh rPET fibres from waste.
According to EREMA, a longer residence time for the PET melt allows the spinning oil and other additives to be removed efficiently, creating high-quality recycled pellets. Once it has been extruded, the PET melt's intrinsic viscosity is increased through polycondensation under high vacuum, with the IV optimiser ensuring that it reaches the precise level necessary for fibre production.
"Including filtration the output quality that we achieve with this recycling process is so high that ultra-fine fibres of up to 2 dtex can be produced using these rPET pellets, with an rPET content of 100 percent," says Markus Huber-Lindinger, managing director at EREMA.
"The fibres and textiles application is not completely new to us, because our PET recycling machines have already been used in fibre recycling. However, in order to reuse these recycled fibres in higher-quality applications, a new technological solution was needed," explains Wolfgang Hermann, who is responsible for the development work for this application as Business Development Manager at EREMA Group GmbH.
The focus of this technology currently centres on recycling PET fibre, but EREMA claims that its next project phase will look into recycling mixed fibre materials from classic textile recycling collection. To advance its development work, the company has opened its fibre test centre for use by a cross-company team; it also operates a fully-equipped and variable industry-scale recycling plant, which is open to customers for trials.
EREMA's VACUREMA recycling process has also been applied to a tray-to-tray PET recycling process, through which Faerch claims to have created rPET trays from post-consumer household waste.
While a previous Eunomia report for Zero Waste Europe identifies fibre as a driver of 26% of PET demand in the EU, SYSTEMIQ suggests that only a quarter of Europe's PET and polyester textiles are currently recycled, and that current systems still depend on fossil fuels. It asserts that chemical and mechanical recycling processes must work in tandem to increase recycling rates and lower carbon emissions.
If you liked this article, you might also enjoy:
McDonald's Director of Sustainability in Europe on the company's approach to packaging sustainability
McKinsey on whether or not on-pack sustainability claims affect consumer spending
Perspectives from industry-leading experts on the EU's Packaging and Packaging Waste Directive revisions
A deep dive into the most important packaging sustainability trends and solutions