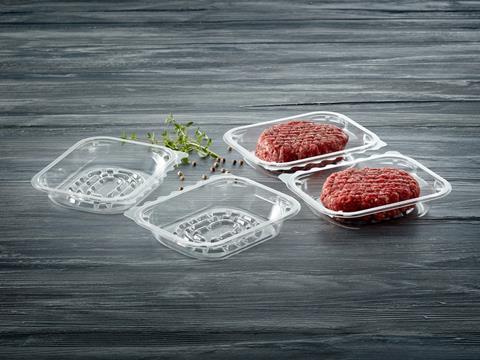 Faerch says it has successfully integrated post-consumer PET household pots, tubs ands trays into its production process to develop food grade recycled PET (rPET) trays using EREMA's VACUREMA recycling process and is looking to quadruple capacity in the coming years.
Faerch is a leading manufacturer of food packaging, largely made from PET thermoforming film, also referred to as trays, which can be used for ready meals, fresh meat, on-the-go meals, and dairy products. According to the companies, the trays Faerch produces are fully recyclable and, depending on the PET type (CPET, MAPET or APET), are made of up to 100% post-consumer rPET.
Faerch has been using the VACUREMA system with SafeFlake technology developed by EREMA to recycle trays since 2018. EREMA explains that this process involves decontamination, drying and IV treatment in the vacuum reactor, before it is fed into the extruder. This reportedly prevents hydrolytic and oxidative degradation of the melt in the extruder, helping to produce food contact complaint rPET trays with good IV and colour values.
EREMA claims this process ensures that the quality of the rPET pellets remains consistently high even if the parameters of the input material, such as moisture, mixture, or bulk density, vary.
Christoph Wöss, business development manager at EREMA Group GmbH, comments: "For us it was clear that with purpose-specific modification of our flexible VACUREMA technology, tray-to-tray recycling could become just as much of a success story. Faerch was our first customer to be as convinced of this as we were."
EREMA adds that its VACUREMA recycling process offers comparatively lower total costs in terms of acquisition and use, as well as energy consumption. According to Wöss: "The specific overall energy consumption of a VACUREMA Prime system is only 0.295kWh/kg. This is one of the best energy efficiency values compared to conventional PET processing lines on the market."
At Faerch's own recycling plant in the Netherlands, 4PET, the company says that PET bales are sorted, washed, and recycled so that both post-consumer rPET flakes and pellets can be supplied to packaging manufacturers or reused in the company's own production process as part of a closed loop. The company says that it produces 1.2 million post-consumer rPET trays per year, with the aim to quadruple capacity in the coming years.
Thomas Bak Thellesen, senior director group sustainability & external affairs at Faerch, adds: "This currently makes us the only integrated recycler in the world capable of recycling used household PET packaging on an industrial scale and turning them back into new trays.
"For our production, this waste is a valuable raw material that we know is of the right quality.
"Without any compromises in terms of food contact compliance and functional properties, quality and sustainability must go hand in hand for us, because this is the only way we can offer our customers circular packaging solutions and drive the change necessary to establish an infrastructure needed to achieve a real circular economy."
In addition, Faerch offers a buyback model to customers who can collect the packaging again after use, such as airlines and catering companies.
EREMA believes that more companies will follow Faerch's example with tray-to-tray recycling in the near future, adding that the broad consensus on the importance of a circular economy – alongside initiatives to enable climate neutrality, resource efficiency, and a competitive industry – will drive demand for rPET as part of a closed loop.
Last year, Faerch announced that it would collaborate with the retailer Tesco on a closed loop recycling solution for secondary PET plastic packaging, which is used to transport and display products. The company will apparently collect secondary PET from Tesco and used its advanced recycling process to make new primary food contact packaging, including pots, tubs, and trays.