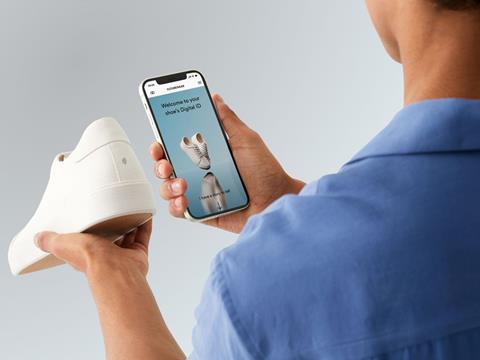 EON, from Proto Innovation based in New York, is claimed to be the world's first cloud-based network of retail products in the fashion sector. It adds new dimensions of data to a product's journey, opening up new possibilities for the circular economy.
The company's wants to radically change commerce for the better by connecting every product to a Digital ID making it interactive, intelligent, and circular, it says. Embedded with connectivity, products become assets that unlock lifelong customer relationships, circular business models, and more.
The network connects each item's Digital ID to an on-product digital label, so each consumer can scan and access exclusive content produced by the brand. It enables the ability to drive cross-selling, share styling advice, care instructions, sustainability information, or offer new services like resale through the network of partners.
Through the analytics capability and developer hub driving its API, Eon offers access to insights into how products are being used, interacted with and moved across the lifecycle to support deep business intelligence.
Customers can access resale data to inform supply chain decisions, or bolster their sustainability promise with aggregated data. Translated visually into a slick design system, the label looks just as high fashion as the products it is connecting, making them more attractive and adoptable by fashion brands everywhere, it believes.
The circular economy can pose a significant challenge to Brands in the fashion industry. How do they know what to do with the apparel if they're unsure of the materials and lifecycle? How do they communicate basic information about the garment to the whole supply chain? Annie Gullingsrud, the chief strategy officer at Eon explains: "Brands have lacked the ability to communicate product and material data critical to a circular system after the first point of sale, until now.'
In order to be accessible for integration with the world's leading programs and beyond, Eon has pioneered the Circular Product Data Protocol, which it claims is the industry's first standardized language for Digital ID. As the global identification system for apparel products in the circular economy, the protocol enables resellers and recyclers to access, identify and share essential product and material information.
Leading the charge in circular innovation, Eon is pioneering the technology and language to make circularity easier. With an intuitive interface scanned right from the garment itself, the product experience makes the cutting-edge tech stickier, it says, and therefore supports the circular economy with an increase in products and users.
The company believes it is the only product cloud with a pre-integrated marketplace of business partners, from top resale platforms, new applications and recycling partners to technology leaders like Microsoft and SAP. As a B2B solution to physical asset tracking and integration, EON can instantly connect products to all these stakeholders by tagging each item with a unique code.
With exclusive access to power new applications, business models and customer services, it has built a network around each product with pre-integrated resale, recycling and repair partners, offering exclusive access to the industry's largest marketplace of digital ID partners for customers and consumers to track and engage with the full lifecycle of their purchase, it states.
Want to put yourself at the forefront of smart packaging innovation? Click here to get your tickets for the AIPIA World Congress, which takes place in Amsterdam on the 14th and 15th of November 2022.
This article was created in collaboration with AIPIA (the Active and Intelligent Packaging Industry Association). Packaging Europe and AIPIA are joining forces to bring news and commentary about the active and intelligent packaging landscape to a larger audience. To learn more about this partnership, click here.