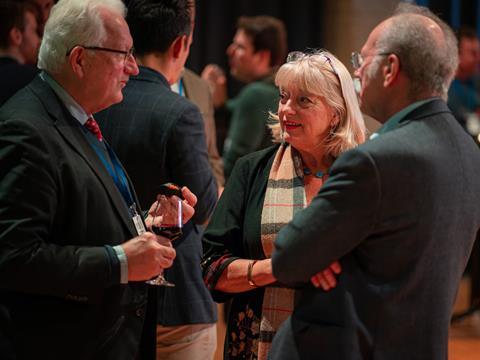 The first live AIPIA World Congress since 2019 took place in Amsterdam on the 14th and 15th of November, and the delegates, presenters and exhibitors all agreed that it was great to finally get back to face-to-face business.
The 2022 Congress, although smaller in size, seemed to have lost none of the dynamic it is famous for. In a notably disruptive sector of packaging the 'creative chaos', which has been an AIPIA hallmark, was clearly in evidence. And with more than 30 presentations ranging across every aspect of Smart Packaging, there were a lot of technologies to catch up on.
Several themes emerged from the two days, notably the need to share and act upon the data that smart packaging enables brands and retailers to collect about consumers and products. In one of the first keynote presentations, Anita Etrati of Accenture explained how a convergence of smart and connected technologies is transforming humble packaging into a new source of real value and how it needs to be acted upon with more vigour.
Of course, the role Smart Packaging has to play in sustainability was a prominent issue. Several presentations covered how these technologies are an enabler and an educator about, for example, collection and recycling of different packaging. Guido Schmitz of InnCreReal (and formerly of Bayer) is a vocal advocate of the important place Smart Packaging has in this area. He believes sustainability is front and centre: "It is no longer just a topic for most companies but a demand."
The importance of data was reinforced by several other speakers, notably in a panel discussion that included several brand owners, including AB InBev and J&J. The panel emphasized that Smart Packaging opens a new dimension to the collection and delivery of data.
This data flows two ways, outwards to suppliers, retailers, and customers and internally to improve production, distribution, marketing and even NPD. Being able to interpret this stream of data is vital. All stakeholders in the supply chain need to change their way of thinking about how to handle data, to ensure it is shared across all parts of the business.
Another theme was the growing importance of Active Packaging as a means to reduce food waste and improve a product's environmental footprint. Opening the congress, Angela Morgan of APTAR told delegates that while packaging has always been a help in reducing food waste, now active and intelligent packaging technologies are offering new options to reduce this waste.
Several other speakers developed this theme. Danny Hacohen of Evigence Sensors offered use cases showing that sensors can measure freshness objectively, enabling shelf-life extension, leading to waste reduction, improving consumer perception of freshness and simplifying store inventory management.
One of the most important discussions centred around how consumers can be educated to better understand the benefits of Smart Packaging and how it is easy for them to connect to it. Several speakers demonstrated consumer-friendly technologies, for example, Martin Stahel of Zappar, as usual, brought the first day proceedings to a rousing climax with more examples of how Augmented Reality is being used to both entertain and inform consumers about the products they buy.
He showed how the solution has evolved both in terms of what the tech can deliver and how brands are using AR to generate commercial value.
Of course, connected Supply Chains were a recurring topic throughout the Congress. Another panel, including representatives of Kezzler, GS1 and Accenture explored how to build sustainable value chains, which requires end-to-end visibility across the supply chain.
They asked how can this transparency be achieved and shared. They explained that traceability technology underpins this visibility and insight – enabling the circular economy, meeting consumer demands, and achieving regulatory compliance.
NEXT TIME: In Part two of this AIPIA Congress report, which will appear in the next few weeks, we will take a deeper dive into some of the products presented and exhibited and also take a look at the outcome of the GSK/Haleon Brand Challenge.