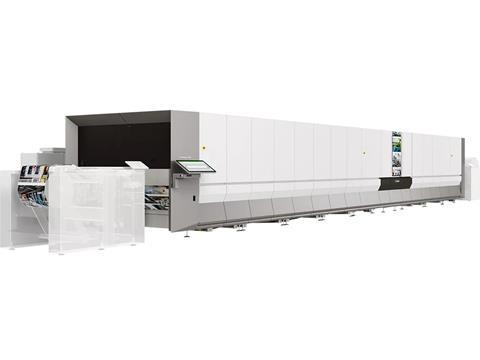 Canon has announced the launch of the ProStream 3000 series, the next generation of its high-speed, web-fed inkjet presses for commercial print.
Built on the established ProStream technology platform, the new ProStream 3000 series brings a wider selection of substrates, including heavyweight paper, up to higher-rated print speeds, with the aim of enabling ultra-fast digital production of a broader range of commercial print jobs.
Canon says that this extended media capability makes it even easier for print businesses – including general commercial and online printers, book producers, and photo product specialists – to migrate high-volume, high-value work from offset and legacy technologies. With ProStream, users can implement inkjet production across the majority of applications, from direct mail and books, to postcards, posters and calendars.
Available in two models – the 80m per minute ProStream 3080 and the 133m per minute ProStream 3133 – the new press series produces ProStream's functions with web widths up to 558mm and for page lengths up to 1524mm.
The new ProStream series can reportedly print up to 11,300 4/4 B2 sheets per hour or 1790 A4-size 4/4 impressions per minute, equating to 58 million A4 impressions per month, on a range of substrates and weights, including standard offset coated, uncoated and inkjet-optimised papers up to 300gsm, without the need to slow down significantly for heavier media weights.
The series also incorporates an enhanced drying system. This system builds upon the one used in the previous ProStream 1000 series, which utilises air floatation throughout the paper path to protect the surface quality of the printed output at all stages. Cannon says that 3000 series' new asymmetric design dries all jobs evenly and in a controlled way without coming into contact with the paper.
1200dpi piezo drop-on-demand print heads work in combination with proven water-based polymer pigment inks and Smart ColorGrip, a new version of Canon's paper conditioning solution. With Smart ColorGrip, which is also now available as an option for the ProStream 1000 series, the amount of ColorGrip solution applied can be customised to specific areas of the page to adjust for heavy or light ink coverage.
Canon's Inline Quality Control, a camera system, also seeks to provide automatic print quality assurance. This reportedly reduces the time needed for operator quality control and improves overall system productivity.
The company says that, thanks to the increased efficiency of its drying system, the new ProStream consumes less energy than the 1000 series for most applications and can be connected to a lower-rated power connection. In addition, the drying and cooling units and the power supply have been relocated in the new product's architecture, in a bid to improve accessibility and operability for operators.
The first ProStream 3000 will be installed in the Pixartprinting Group in Italy, but will have its global debut beforehand at Hunkeler Innovationdays, where it is being exhibited in live production workflows of a range of commercial print applications. The new press series is available immediately, either directly from Canon or from its accredited channel partners, depending on the territory.