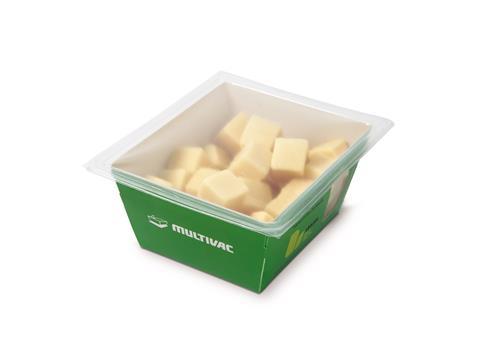 At interpack 2023, MULTIVAC will be showing solutions for packing small and medium-sized batches, as well as complete processing and packaging lines for the food industry, at Hall 5, Stand A23.

MULTIVAC hopes that these small-batch solutions will enable hand-craft businesses and smaller processors to make the entry into automatic packaging - with the aim of achieving maximum flexibility and cost-effectiveness. In addition to chamber machines of different sizes, the exhibits will also include compact thermoforming packaging machines and traysealers.
At the forefront is the R 085 e-concept thermoforming packaging machine, which is designed for packing small batches. The company says that this entry-level model can run "sustainable materials" as well as conventional flexible and rigid films.
The machine operates with electricity only and does not need compressed air or cooling water. MULTIVAC says that this means it can be used flexibly within the production area. In Düsseldorf, the R 085 e-concept will be shown in conjunction with a Handtmann dosing system, which is used to dose food directly into the thermoformed packs.
Meanwhile, the R 105 MF thermoforming packaging machine is described as an entry-level model for packing a wide range of food products, such as for example steaks or salmon cuts, in MultiFresh vacuum skin packs.
The T 255 traysealer, which will also be shown, is a space-saving, free-standing unit, which enables different types of tray packing to be produced on one machine in small and medium-sized batches.
MULTIVAC's T 305, which is the company's smallest fully automatic traysealer, can be fully integrated into lines. Thanks to its range of available loading areas, this allrounder can be matched to the individual production environment, and it can run trays up to a depth of 110 mm. Recently it has also become possible to have PaperBoard applications and MultiFresh trays with 50 mm product protrusion.
An optional DP 115 direct web printer from MULTIVAC Marking & Inspection is available for marking the packs. The film is printed by means of the thermal transfer process, and the printer is situated at the film infeed on the packaging machine.
With its B 425 compact chamber belt machine, the company says it is showing a model, which offers a "very high output", particularly when packing smaller products such as ham, cheese, poultry and fish.
The machine's 1,300 mm long sealing bar makes it possible to load many products, and another reported benefit of its compact design is the small space requirement of the machine, meaning that it can be used in small production environments.
When packing products on chamber belt machines, the filling of the film pouches and the loading of the machine are often a bottleneck in the process. By using the new MULTIVAC Pouch Loader (MPL) and MULTIVAC Pouch Rack (MPR), the loading of the chamber belt machine is performed semi-automatically. In Düsseldorf the chamber belt machine will be combined with a SE 320 shrink unit.
Meanwhile, with its C 200 tabletop chamber machine, MULTIVAC is showing a model which is also suitable for larger products, such as for example cheese portions, ham or fresh meat, thanks to its chamber size of 465 x 355 x 150/220 mm.
The W 500 being shown by MULTIVAC is a universal flowpacking solution, which offers a "high level" of flexibility for packing a wide range of food products and supports the use of what the company describes as "sustainable films" and paper-based materials.
Products with a maximum width of 200 mm and a height of up to 120 mm can reportedly be easily packed - with or without a tray. The other features include the independent speed setting of the rollers for crease-free longitudinal sealing, reliable cross sealing thanks to precise and recipe-based control of sealing temperature and pressure, as well as an integrated gas analysis system for MAP packing with modified atmosphere.
When it comes to labelling or marking the packs on a flowpacker, MULTIVAC offers a range of solutions. These range from inline labellers to direct web printers and even combined systems. A DP 207 printing solution will be shown at interpack on the W 500.