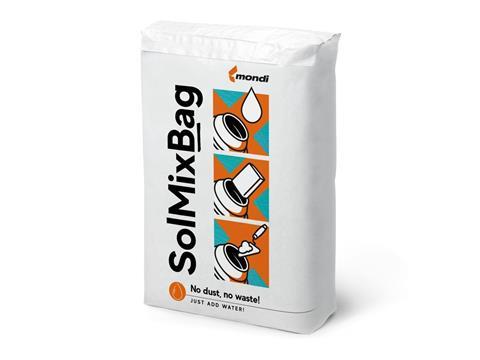 Global packaging and paper group Mondi has partnered with building materials supplier Baumit to launch SolmixBag, a water-soluble paper bag aiming to reduce waste in the construction industry.
SolmixBag is a one-ply paper bag created to store and transport dry construction materials such as cement and dry mix mortar products. It's designed to dissolve when in contact with water during the mixing process - the fibre of the packaging integrates with the product as it is mixed.
Mondi says this eliminates waste, reduces paper waste management costs and minimises dust on the construction site, as the bag is placed into the mixer without needing to open it up front.
Mondi states SolmixBag is created in-house from the company's water-soluble sack kraft paper, reportedly using 20% less paper than the industry standard 2-ply paper bags. The solution can run on existing filling machines and is available in standard sizes.
Earlier this year Mondi and ATS-Tanner worked together on a recyclable paper band for multipacks and bundles, and Mondi also announced its collaboration with Syntegon this month to produce a recyclable paper packaging solution for dry foods made from recycled fibres.
If you liked this article, you might also enjoy:
McDonald's Director of Sustainability in Europe on the company's approach to packaging sustainability
McKinsey on whether or not on-pack sustainability claims affect consumer spending
Perspectives from industry-leading experts on the EU's Packaging and Packaging Waste Directive revisions
A deep dive into the most important packaging sustainability trends and solutions