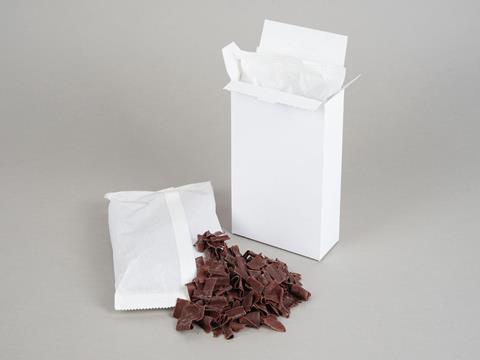 As part of its ongoing Better Planet Packaging initiative, Smurfit Kappa has collaborated with one of its partners, Mitsubishi HiTec Paper, to create a new type of recyclable food-safe packaging.
Combining paper-based packaging and coated paper knowledge, the first product in this new range has been shortlisted as a finalist in the Swiss Packaging Awards.
The outer board-based packaging was made from Smurfit Kappa's MB12 solution which has built-in adsorption technology, protecting against aromas and possible migration of substances. The inner packaging, which contains Mitsubishi HiTec Paper's BARRICOTE barrier paper, offers protection against moisture and grease and has heat-sealing properties.
This solution, which is suitable for dry and fatty foods, demonstrates the possibility of creating functional board-based packaging that is fully recyclable, thanks to the optimised use of renewable raw materials in the barrier.
The barrier properties of the heat-sealable inner bag are based on an aqueous coating mix, making it fully recyclable and sustainable. The company argues that current PE inner pouches are not fully recyclable and therefore not environmentally friendly and not suited for the circular economy.
In addition, the secondary packaging contains a special absorber to avoid any kind of mineral oil contamination.
"It has been a very interesting and collaborative process for us working with Mitsubishi HiTec Paper on this project," said Lars Henriksson, VP of Product Development of the Smurfit Kappa Paper Division.
"The fibres that our industry-leading paper is made from are an excellent solution for a huge range of products due to a range of attributes, not least their inherent sustainability."
Dr. Dieter Becker, Director of New Business Development & CSR at Mitsubishi HiTec Paper added: "As experts in specialty paper coatings, we brought our know-how in barrier and protective coatings to this process.
"Our solutions are completely free from foil, laminates, aluminium and fluorocarbons. Instead, we rely on the highest possible percentage of biodegradable resources which is why Smurfit Kappa's MB12 solution was the right one."
HOBAKO AG, a Swiss producer of chocolate products, together with SCHELLING AG, its Swiss packaging provider, were the first to use the new board-based packaging solution which was shortlisted as a finalist in both the sustainability and technology categories of the Swiss Packaging Awards earlier this year.