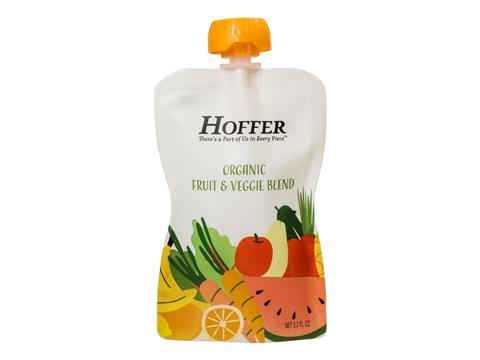 Mespack and Hoffer Plastics have announced the market launch of the P-15 spout and cap for stand-up pouches – now designed to be compatible with both monolayer materials and Mespack's horizontal form-fill-seal machines.
The P-15 is said to be lightweight and contain 20% less plastic than previous designs. In its utilisation of monolayers, the closure is not thought to require separation in the recycling stream; this is hoped to produce higher quality recyclate and save energy during the recycling process.
With the form-fill-seal machines already said to be compatible with Hoffer's P-20 closure, Mespack's H180FE model – currently installed at the new Dow Pack Studios innovation centre in Freeport, Texas, USA – has been retrofitted to operate the P-15.
Much like its other closure designs, Hoffer anticipates that the P-15 will contribute towards the recyclable spouted stand-up pouches it has developed in collaboration with Mespack. Such projects aim to bring the European and global packaging markets closer to circularity in line with the EU's ambitions to ensure the complete recyclability of all plastic packaging by 2030.
A previous collaboration between the two companies and UFlex saw the development of a turnkey solution aiming to "address the issue of full recyclability" of hot-fill pouches for ready-to-eat food applications. This design utilised an OPP and CPP layered laminate structure and spout cap in what was said to be a fully recyclable flexible pack.
In recent months, TriMas Packaging company Rieke launched its IMF-5 In-Mold FLEXSPOUT tamper-evident closure for plastic pails, aiming to provide customers with enhanced product and brand protection by moulding the closure directly into the lid during the injection moulding process.
Blue Ocean Closures also secured a second investment from its co-owner ALPLA Group, which it hopes to use to accelerate the development of bio-based, biodegradable, and recyclable caps and lids.